For the past year, Food52.com readers have been voting in weekly showdowns of reader-submitted recipes on a given theme. The winning recipes of each week will end up in Food52's upcoming cookbook, along with bios of the people who submitted them (Food52 explains the process in simple detail here).
Food52 and its co-founders Amanda Hesser and Merrill Stubbs have invited HuffPost Food readers to vote on week 17's contest (of the second year, and the second book).
This week's showdown is for the best hoddies, featuring recipes from Food52's co-founders Amanda Hesser & Merrill Stubbs.
Amanda Hesser's Hot Toddy with Dried Cherries and Lime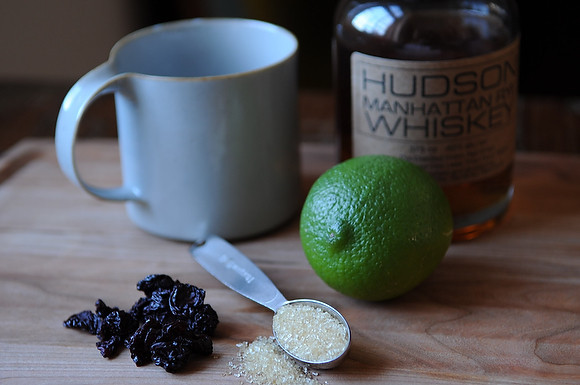 Photo: Sarah Shatz
Amanda's notes on her Hot Toddy with Dried Cherries and Lime on Food52.com:
This is a classic hot toddy (1 part dark spirit to 3 parts boiling water, sweetened) with a few tweaks. I used rye instead of the typical bourbon or whiskey, raw sugar instead of white, and I slipped in a few dried cherries and some lime zest to scent the drink. It's a revitalizing antidote post-snow-shoveling, or post-holiday-anything. By the time you reach the bottom of the mug, the cherries are plumped up and boozy. Drink and treat in one -- cheers! - Amanda Hesser
View the Hot Toddy with Dried Cherries and Lime recipe here.
Merrill Stubbs' Mulled White Wine with Pear Brandy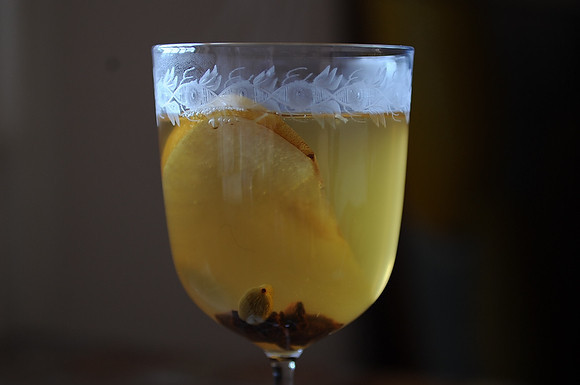 Photo: Sarah Shatz
Amanda and Merrill's notes on Mulled White Wine with Pear Brandy on Food52.com:
I'm a lightweight when it comes to booze, and I'll be the first to admit that my interpretation of a "hot toddy" is a little loose. My husband loves Glühwein (German/Austrian mulled wine), but he prefers drinking white wine to red, so for this contest I decided to experiment with a white mulled wine, amped up with pear brandy. I infused the wine with cardamom and star anise, which I thought would go nicely with the white wine, as well as the more traditional triumvirate of cinnamon, ginger and cloves. To amplify the pear flavor, I added a slice of Asian pear to each drink as a garnish -- the pear softens slightly as it absorbs the warm booze and makes for a yummy treat once you've sipped the last of the wine. - Merrill -- Merrill Stubss
View the Mulled White Wine with Pear Brandy recipe here.
SUBSCRIBE AND FOLLOW
Get top stories and blog posts emailed to me each day. Newsletters may offer personalized content or advertisements.
Learn more