Sherri Shepherd discussed her recent engagement on Monday's episode of "The View," showing off her engagement ring and describing how her fiance, television writer Lamar Sally, proposed to her.
First, she said, he asked her five-year-old son, Jeffrey, if he could marry her. But Jeffrey just wanted to play with the game Sally had given him, so he gave his assent right away. What really sold her on Sally, Shepherd said, was that "he not only loves me, he adores my son and my son adores him."
She said that she would take Sally's name, but remain "Sherri Shepherd" professionally.
As for Sally, she described him as "6'6", 250 plus. I got him from Detroit...they're like Ford trucks, built to last."
WATCH:
See a closeup of the engagement ring: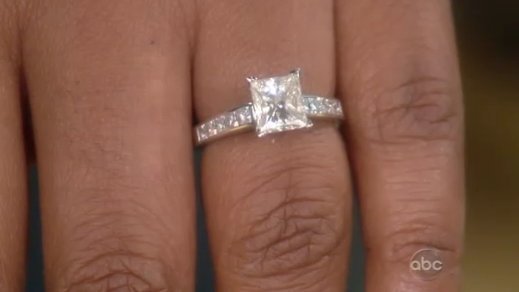 SUBSCRIBE AND FOLLOW
Get top stories and blog posts emailed to me each day. Newsletters may offer personalized content or advertisements.
Learn more