TUCSON, Ariz. -- The parents of a man charged with trying to assassinate Rep. Gabrielle Giffords are devastated and guilt-ridden, a neighbor said, mourning their own tragedy as Tucson residents prepared Tuesday for a community memorial service and a visit from the president.
(SCROLL DOWN FOR LIVE UPDATES)
Jared Loughner's mother has been in bed, crying nonstop since the shooting rampage on Saturday, neighbor Wayne Smith, 70, told KPHO-TV. Amy and Randy Loughner want to know where they went wrong with their 22-year-old son.
The younger Loughner is charged with trying to kill the Democratic lawmaker and killing a federal judge.
"I told them they didn't fail. They taught him everything about right and wrong," Smith said. "We all know you can teach someone everything and have no control how it works out."
Loughner's parents have not appeared publicly or spoken since the incident, but the family released a statement on Tuesday afternoon:
"There are no words that can express how we feel... we don't understand why this happened. We wish we could...change it. We wish that there were, so we could make you feel better. We don't understand why this happened. It may not make any difference, but we wish that we could change the heinous events of Saturday. We care very deeply about the victims and their families. We are so very sorry for their loss."
At University Medical Center, Giffords remained in critical condition, but doctors said she is able to draw breaths on her own. Dr. Michael Lemole, Giffords' neurosurgeon, said, however, that doctors left the breathing tube in Giffords to protect her airway.
When asked about swelling in her brain on the third day, which is when it often reaches its peak after an injury, Lemole said a CT scan early Tuesday showed no increase in swelling. But he cautioned that it can sometimes take longer for brain swelling to reach its peak.
Click here for more information, or scroll down for the latest updates.
01/21/2011 3:05 PM EST
Welcome To Houston
Giffords' flight has arrived in Houston, KOLD reports.
01/21/2011 2:45 PM EST
En Route To Texas
Rep. Giffords is heading towards Houston. The Arizona congresswoman's trip includes portions via ambulance, helicopter and jet. The AP reports that she will "undergo weeks of rigorous therapy."
01/21/2011 2:43 PM EST
Leaving Arizona
Photos of Rep. Giffords' motorcade earlier on Friday as she began the trip to Houston.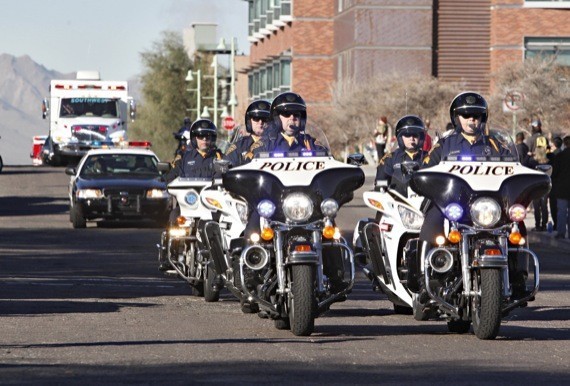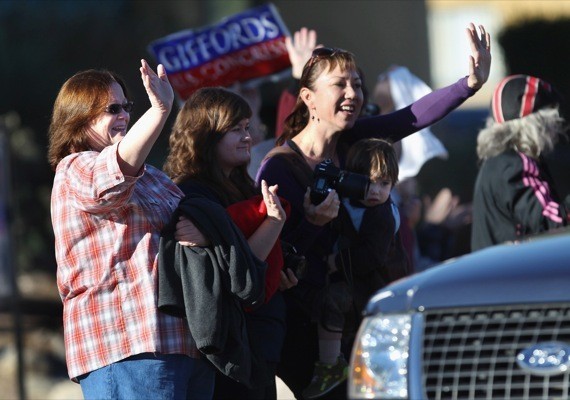 01/20/2011 11:10 PM EST
Shooting Victim Recounts Judge's Heroism
AP reports on one victim's memories of Judge John Roll's heroic actions the day the tragic shootings rocked Tucson:
Ron Barber can remember the small details of the Tucson rampage: The gunman, the crackle of gunfire, lying on the ground, wounded, and the weight of a body on him.

A week and a half later, Barber found out that it was his good friend John Roll.

Then he learned the federal judge may have helped save his life.
Full story here.
01/20/2011 10:32 PM EST
Statement From Judge Roll's Widow
Judge John Roll's wife, Maureen, has issued a statement in response to her husband's tragic death and the events that unfolded in Tucson, AZ Central reports:
There are no words to describe how my world was shattered on Saturday morning, Jan. 8, 2011. Not only did I lose John Roll, my husband and best friend of more than 40 years, but our three sons lost a wonderful father and our grandchildren their beloved papa. But something else happened that day and in the days that have followed.
Read the full statement here.
01/20/2011 10:28 PM EST
PHOTO: Giffords Goes Outside
Giffords' family reported that she felt the sunshine on her face today for the first time since she was shot. Her office released the below photograph of the congresswoman's bed on a hospital deck, with husband Mark Kelly by her side.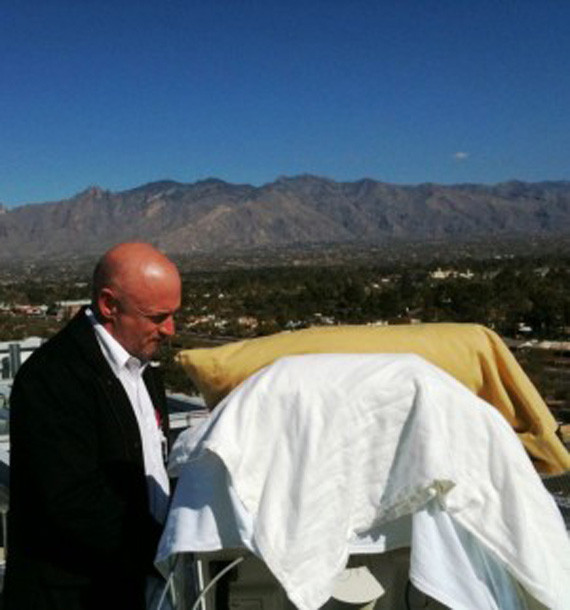 01/20/2011 10:12 PM EST
Giffords Transferring To Houston Friday
Arizona's KFDA reports that Congresswoman Giffords will be transferred to Houston's TIRR Memorial Hermann hospital at 9am local time tomorrow:
Officials at University Medical Center in Tucson say the congresswoman is expected to leave shortly after 9 a.m. local time and travel by ambulance to Davis-Monthan Air Force Base for a medical flight to Texas.

A group of motorcycle riders from a Veterans of Foreign Wars post will escort the ambulance.

Once in Houston, she will be taken by helicopter to TIRR Memorial Hermann hospital.

Traveling with Giffords will be her husband, Mark Kelly; her mother, Gloria Giffords; trauma surgeon Dr. Peter Rhee and an intensive care unit nurse.
Full article here.
01/19/2011 11:05 PM EST
Death Penalty For Loughner?
AZ Central reports on the terms of Loughner's indictments, and what would constitute the death penalty:
Superseding indictments could come as early as 60 days in the murders of U.S. District Judge John Roll and Giffords' aide Gabe Zimmerman. Sources indicated that the indictments would be done piecemeal in order to meet constitutional requirements.

The federal criminal code allows penalties of up to life in prison for an attempted assassination of a member of Congress. When federal murder charges follow, prosecutors could seek the death penalty.
Full story here.
01/19/2011 11:03 PM EST
Surveillance Video Shows Gunman Shooting Giffords
The AP reports on a video that has surfaced of the shooting rampage:
John Roll was called a fair federal judge and a loving family man at his funeral. Now, some are also calling him a hero.

Surveillance footage of the Jan. 8 shooting rampage in Tucson showed that he used his body as a shield to cover an injured man. Roll then took a bullet to the back, and lost his life in the process.
Full story here.
01/19/2011 11:02 PM EST
Giffords Family Weighs Rehabilitation Course
The AP reports:
Giffords' family hopes to move the Arizona congresswoman on Friday to TIRR Memorial Hermann hospital in Houston, where her husband lives and works as an astronaut. The exact day of the move will depend on her health.

"I am extremely hopeful at the signs of recovery that my wife has made since the shooting," Mark Kelly said in a statement released by Giffords' congressional office. The staff at University Medical Center in Tucson "has stabilized her to the point of being ready to move to the rehabilitation phase."
Full story here.
FOLLOW HUFFPOST