There are plenty of juicy tidbits from yesterday's huge mafia bust, in which federal authorities charged 127 suspected mobsters and associates in the Northeast with murders, extortion and other crimes that spanned several decades.
The nicknames of those arrested alone are worth a gander. Among those busted were Tony Bagels, Junior Lollipops, Vinny Carwash, The Bull, Lumpy, Fatty, Fats, and Johnny Pizza.
One of the indictments filed charges a reputed Gambino boss, Bartolomeo Vernace, in a double murder at the Shamrock Bar in Queens in a dispute over a spilled drink. Another charges an alleged Colombo boss, Anthony Russo, in the 1993 killing of an underboss during the family's bloody civil war.
Neil Messina was charged with the 1992 murder of Joseph Pistone and his dog during a Brooklyn home invasion.
Todd LaBarca was charged with the execution-style murder of drug dealer Marty Bosshart in 2002.
Luigi "Baby Shanks" Manocchio was accused of shaking down strip joints in Providence for protection money.
The arrests also highlight the apparently strong grip organized crime has on unions. Several of those arrested were union members, including Ralph Scopo Jr., former leader of concrete workers Local 6A. He's accused of scamming the union's benefit funds and giving jobs to cronies.
In 2007, Scopo learned that a Ground Zero job site foreman was complaining about being under mob control.
Scopo took the foreman for a sitdown with Colombo crime family captain Dino Calabro - bringing along his son, also named Ralph.

He later told Calabro that Little Ralphie was there in case the reform-minded foreman "needed to be physically assaulted," the Laborers International Union of North America charged after taking over the corrupt local last December.
There were also two former law enforcement officers arrested in the raid.
Retired NYPD officer Dominic Caramanica, a reputed Genovese crime associate, was charged with threatening an unidentified debtor to the mob.
Robert Dito, a former Suffolk County Emergency Service cop was accused of tipping off illegal gambling clubs about raids.
On its website, the FBI warns that "while the mafia may no longer possess the robust national presence and influence it once had, it remains a significant threat to the extended New York metropolitan area, New England, Chicago, and Detroit."
The Five major New York mafia families are the Bonnano's, Columbo's, Gambino's, Genovese's and Luchese's.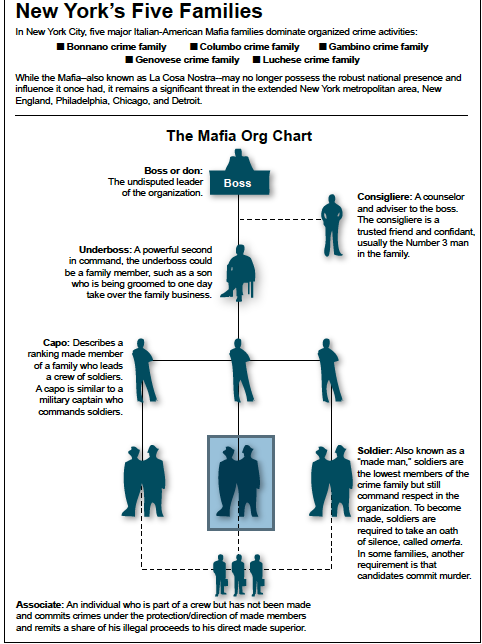 And here's a list of the delightfully cliched names for some of the wise guys arrested.
SUBSCRIBE TO & FOLLOW THE MORNING EMAIL
The Morning Email helps you start your workday with everything you need to know: breaking news, entertainment and a dash of fun. Learn more