Taking Mom And Pop To The Cleaners: How The Small Business Lobby Hurts Small Business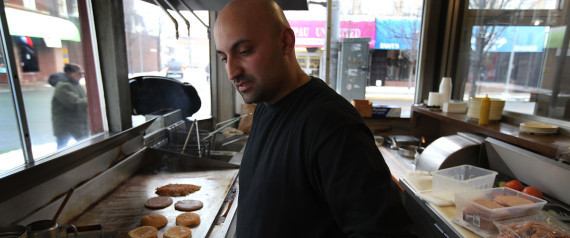 The NFIB's flirtation with bipartisanship didn't last. After seeing the interplay between the federal government and private health-care companies close up, Stottlemyer headed back to the private sector, taking a position at Virginia-based Inova Health System. He is currently CEO of Interactive Technology Solutions LLC and told HuffPost that he wasn't pushed out of the NFIB.
Whatever the terms of his departure, Stottlemyer was replaced by Dan Danner -- a career lobbyist and former operative for President Ronald Reagan.
The top Senate aide was worried that the NFIB would revert to form following Stottlemyer's departure. "I called their lobbyist and said, 'What's the deal? Why's he leaving? He's great.' She said, 'I don't know, he just wanted to do something else,' and assured me Dan Danner wanted to carry the same mantle that Stottlemyer did. And I was skeptical, because he's a partisan hack," the aide said.
As Obama took office, Danner wasted no time in coming out full force against two of the administration's top priorities, the economic stimulus package and the health care bill -- even though both ended up taking positions the NFIB had long supported.
"We caved on everything they wanted in the health reform bill. Literally, everything," said the aide. "Right now they have no pooling arrangements in order to spread risk. We did that. We did it the way they wanted it done. The tax credits to purchase insurance. No employer mandate for small businesses. All these things that they really asked for, and then some, and they still wouldn't sign on the bill. And then filed the lawsuit."
Small-business groups were divided on the bill. Some, like Main Street Alliance, were full-throated supporters of the full package. Others, like the National Association of Small Businesses, ultimately opposed the legislation but reserved praise for several provisions, such as tax credits focused on small firms. No lobby group, however, went as far to oppose the final bill as the NFIB, which filed a lawsuit challenging it as unconstitutional -- a move deemed too extreme even for the U.S. Chamber of Commerce.
Today, the NFIB is run mostly by and for Republicans. Of the 11 lobbyists currently employed by the NFIB, nine are former staffers for Republican lawmakers (one is a former Democratic staffer and another is an academic with ties to JPMorgan Chase and the New York Federal Reserve). The organization endorsed 319 politicians in the 2010 elections, 310 of them Republicans. And 93 percent of the $745,051 that the NFIB deployed in campaign contributions went to GOP candidates. The group's independent arm spent an additional $1 million, all of it on behalf of Republicans.
The NFIB is merely an extreme example of a Washington phenomenon symptomatic of a diseased system: A group of people form an organization to represent their interests in Washington -- exercising their First Amendment rights -- but over the years, the lobby is captured by partisan politics.
That's fine for the GOP, but the NFIB's partisan orientation is not always as beneficial to its ostensible clients. This conflict was most fully realized during the months-long debate over The Small Business Jobs Act. The bill was was first introduced in the House in mid-May and breezed through the lower chamber, developing into a package rife with benefits for small firms. There were tax breaks for firms that had capital, measures to supply capital to firms that didn't, and lending programs to make everyday operations cheaper.
Politically, the legislation's wheels were greased early on; an aid package for small firms carried popular appeal during a deep recession. The bill had the strong backing of Obama and the Treasury Department, while 15 of the bill's 16 major provisions had a Republican cosponsor. Business loved it: the legislation basically consisted of a set of tax breaks for small firms, plus efforts to provide credit to firms on favorable terms, and encourage investment by eliminating all capital-gains taxes on purchases of stock in small firms.
With hordes of supporters and no natural enemies, the legislation should have run wild through Congress like political kudzu. But that's not how Washington works, especially not in an election year when Democrats are in need of a political victory. Last summer, the bill found itself nearly wiped out. It eventually passed, but was not signed into law until Sept. 27, due in part to the NFIB's own resistance. That delay made it much harder, if not impossible, for small firms to take advantage of some of the bill's major tax and investment sweeteners before year-end deadlines.
Sen. Olympia Snowe (R-Maine), the top Republican on the Senate small business panel, had written or coauthored half of the legislation's major initiatives -- more than any other lawmaker. When it came time to vote, however, Snowe refused to back the package, successfully urging other Republicans on the panel to vote against it as well.
Landrieu opened negotiations with Snowe, but the effort proved futile. Republicans even began publicly bashing the program as "Son of TARP," due to a provision which would have diverted Wall Street bailout funds from the Troubled Asset Relief Program to community banks and provided incentives for those banks to extend loans to small businesses. Republicans had decided that handing the Democrats a bipartisan legislative victory was too high a price to pay for a few thousand jobs and a host of handouts for major campaign contributors.
The NFIB's objection wasn't coming from businesses, said Landrieu, but from political elements of the right that were ideologically opposed to having Treasury involved in expanding access to credit.
"It was an objection, not even really [from] the business groups. It was an objection from sort of the right, nonbusiness groups, about the government creating the Treasury program, the loan program," Landrieu said. "It was more of an ideological objection."
Subscribe to the HuffPost Hill newsletter!