At Fort Sill, High-Interest Lenders Circle The Gates
The following story has been reposted in partnership with The Dylan Ratigan Show's week long "No Way To Live" series on the financial crisis and its impact on ordinary Americans, and in collaboration with Meetup.com, which is hosting HuffPost Mortgage Modification Madness Meetups across the country, where homeowners can meet others who've had similar difficulties with lenders.
LAWTON, Okla. - Just outside the front gates of the sprawling Fort Sill military installation, in a scrubby corner of the windswept Great Plains, a panorama of "military loan" brokers, pawn shops and car stereo dealers awaits.
In this landscape of high-interest, easy credit, Mike, a U.S. Army Private First Class from Kansas, began a downward spiral into debt -- one that has left him sleeping in his friend's garage, surviving on only $148 every month.
Recently he was reprimanded for not getting his required military haircut. He just didn't have the money, he said.
"I was actually debt-free my entire life, until I joined the Army," said Mike, who, like most soldiers at Fort Sill, spoke on the condition that he be identified only by first name because he is not allowed to speak to the media without clearance from superiors.
When President Obama offers his State of the Union address Tuesday night, he plans to discuss the welfare of the nation's troops returning home from conflict overseas. But also of significant concern are the conditions facing American soldiers right here in the U.S.
Most American military posts are encircled by an array of questionable lending operations that many consumer advocates describe as being predatory. The issue has received greater attention this month with the announcement that Holly Petraeus, wife of Army General and top Afghanistan commander David Petraeus, will lead a newly created division of the Consumer Financial Protection Agency aimed at curbing such practices directed toward military service members.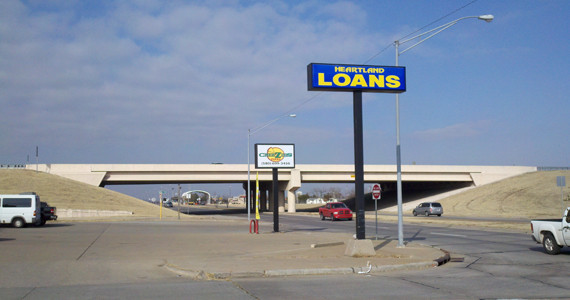 A street near the main entrance to Fort Sill
Outside seemingly every military post across the country, scenes such as in Lawton are familiar: car dealerships, cash advance businesses, furniture stores and electronics dealers all offer a tantalizing array of buy now-pay later options, marketed in particular to young soldiers who have little in the way of savings and either bad or non-existent credit histories.
"The thing with the military is the paychecks aren't large, but they're absolutely guaranteed twice a month," Petraeus told HuffPost. "And the military has a culture that says, 'You will pay your bills.' Definitely troops are well-aware of that, and they're afraid of the consequences if they don't. So that gives real leverage to lenders who will sometimes threaten them, or take advantage of their fear of getting in trouble with their units."
In addition, lenders are able to rope soldiers into firm commitments to pay obligations through a system known as an "allotment," where the payments are directly drafted to lenders from the government before ever reaching the soldiers' bank accounts.
For additional security, most lenders require soldiers to provide contact information for a drill sergeant or battery commander, in the event that a payment doesn't go through or a soldier defaults.
"Army guys -- it's the best bet," said Bailey, a first-year private who was surveying the lot at Patriot Auto Sales, just outside the post entrance on Fort Sill Boulevard, on a recent Friday afternoon. "That's a guaranteed paycheck that's not going down. If you could get $400 a month, guaranteed, why wouldn't you go after us?"
Predatory lending and high-interest financing targeting the military have been elusive problems for years. Consumer advocacy groups for years have sounded the alarms calling for greater protections. At the behest of Congress, the Department of Defense released a report in 2006 that documented how high-interest lenders set up shop outside of military towns, leading many soldiers into debts they could not handle.
The report noted that predatory lending "undermines military readiness, harms the morale of troops and their families, and adds to the cost of fielding an all-volunteer fighting force."
For soldiers who fall prey, the consequences extend beyond financial hardships. Outstanding debts or bad credit can lead to a revocation of security clearances, because a service member could be viewed as susceptible to bribes from foreign governments. According to the 2006 Defense Department report, there were 17 times as many denied security clearances due to financial problems in 2005 as there were five years earlier in the Navy and Marine Corps.
After the report, Congress eventually passed legislation that capped yearly interest rates for certain types of loans at 36 percent. But the rules only covered a portion of the lending methods available to military personnel -- payday loans, auto title loans and refund anticipation loans, which are high-interest loans based on the expected proceeds from an income tax return. Outside non-profit groups who assist service members say that many lenders have simply changed the terms of the loans, such as extending the repayment deadlines, to not fall under the new rules.
In a letter to the Treasury Department last year, a senior Defense Department official, Clifford L. Stanley, wrote that worries about finances were "second only behind work and career concerns and ahead of deployments, health, life events, family relationships and war/hostilities."
In many ways members of the military -- particularly young enlisted personnel who lack formal college education -- are similar to other low-income populations who fall victim to the temptations of risky financial obligations.
"It's not a lot different from public benefits recipients, who also are attractive targets to these lenders because they have that check coming in regularly, but have a hard time making ends meet," said Lauren Saunders, an attorney at the National Consumer Law Center who has followed military issues for years.
Although all branches of the military have stepped up financial education for soldiers in recent years, some complain the classes often come in the midst of a dizzying and exhausting training regimen.
Younger soldiers fresh out of basic training find themselves on their own without supervision for the first time in their lives. Flush with what may be the biggest paycheck they've ever seen, soldiers are tempted to spend. But lacking any credit history, installment loans at high interest rates are often the only option.
Subscribe to the HuffPost Money newsletter!