The State of the Union Address is a political junkie's Super Bowl. If you are as excited as we are about President Obama's big speech, get off the couch and join your fellow Chicago politicos at a viewing party (and maybe discuss the totally dramatic mayoral race while you're at it.)
We rounded up a few Chicago places that will be showing the State of the Union address tonight at 8 p.m. Did we miss a place? Let us know where to go in the comments.
The Village Tap, 2055 W. Roscoe St.
Organizing For America members will gather at this Roscoe Village bar for a viewing party and strategy session. OFA members invite you to meet fellow volunteers, get fired up for 2011, and make plans to fight for the President's agenda in 2011 and beyond.
Three Peas Art Lounge, 75 E. 16th St.
Watch the speech with like-minded young professional Democrats as you enjoy cocktails and cupcakes downtown. Arrive anytime after 7 p.m. and maybe catch a glimpse of some local candidates that will stop by. This event is hosted by Gen44 Chicago leadership.
Room 43, 1039 E. 43rd St.
See the President's speech on two jumbo projector screens at Room 43. There will be a discussion following the viewing about the speech and Obama's goals for the country.
Lutheran Church of the Holy Spirit, 1335 W. 115th St.
This South Side church will be showing the president's speech on a big screen. They will also offer snacks before the event and follow it with a discussion.
Black Finn American Saloon, 16 W. Jefferson Ave., 2nd Fl, Naperville
Meet in Naperville at 7 p.m. to discuss community activism before watching the speech.
Durty Nellie's Pub, 180 N. Smith St., Palatine
Suburban politicos can watch the speech in Palatine.
Watching the State of the Union? Meetup and watch it with other HuffPost readers and send your thoughts and photos to submissions@huffingtonpost.com.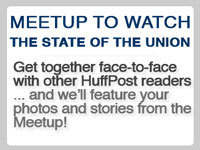 SUBSCRIBE AND FOLLOW
Get top stories and blog posts emailed to me each day. Newsletters may offer personalized content or advertisements.
Learn more