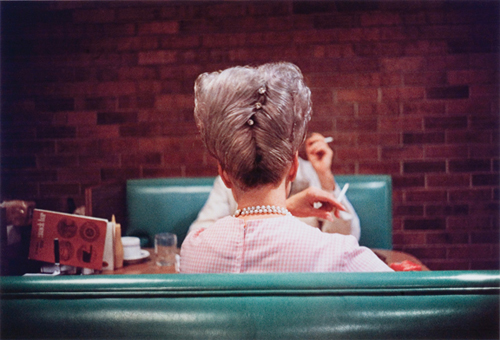 Untitled, n.d., from Los Alamos, 1972-74, Private collection.
Seeing a really good Eggleston picture is to be astonished by the knowledge that someone is seeing strange, remarkable things you could see yourself if you were just paying attention. A cocktail on an airplane table in the sun explodes with energy; a light bulb on a scarlet ceiling fed by white cable seems to crackle with life. It is surprising and unsettling to discover that all this is out there embedded in the fabric of everyday life right under our noses. This is often the way it is with excellent photography, but Eggleston's vision often detects a drama simmering one or two layers down beneath the constant glint of the obvious. His pictures draw out a twist of intensity from the most insignificant detail, like turning out a writhing insect from under a rock to live in the open air.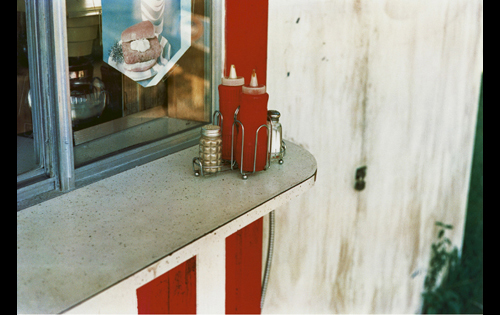 Untitled, c. 1970, from Los Alamos, 1965-68 and 1972-74, Private Collection.
Fond (perhaps very fond) of drugs, alcohol and beautiful women, Eggleston drove a Ferrari, or a Rolls, or a Jaguar through the cotton fields and bayou country of Mississippi wearing a suit straight out of a Tennessee Williams drama; he shot (and edited) like an ecstatic or a visionary. As a point of reference, his images have the same snapshot vernacular character as Robert Frank, Larry Clark and Garry Winogrand. While these artists tend to value the ironic and even violent complexity of black and white, Eggleston's images are almost all in color and seem to be tuned in to a different wavelength. The result can range in emotion from tenderness to radical alienation.
SUBSCRIBE TO & FOLLOW CULTURE SHIFT
Level up. Read THIS and be the most interesting person at your dinner party. Learn more