Obama's Reagan Bromance: Admiring the Gipper's Vision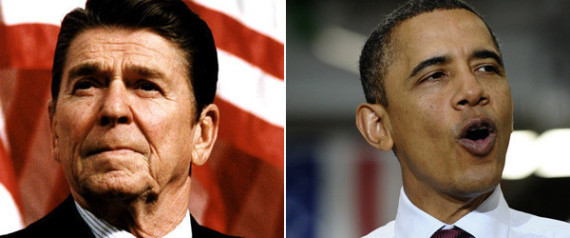 TIME:
In May 2010, Barack Obama invited a small group of presidential historians to the White House for a working supper in the Family Dining Room. It was the second time he'd had the group in since taking office, and as he sat down across the table from his wife Michelle, the President pressed his guests for lessons from his predecessors. But as the conversation progressed, it became clear to several in the room that Obama seemed less interested in talking about Lincoln's team of rivals or Kennedy's Camelot than the accomplishments of an amiable conservative named Ronald Reagan, who had sparked a revolution three decades earlier when he arrived in the Oval Office. Obama and Reagan share a number of gifts but virtually no priorities. And yet Obama was clearly impressed by the way Reagan had transformed Americans' attitude about government. The 44th President regarded the 40th, said one participant, as a vital "point of reference." Douglas Brinkley, who edited Reagan's diaries and attended the May dinner, left with a clear impression that Obama had found a role model. "There are policies, and there is persona, and a lot can be told by persona," he says. "Obama is approaching the job in a Reaganesque fashion."
Subscribe to the HuffPost Hill newsletter!