Israel Agrees To Egypt Troops In Sinai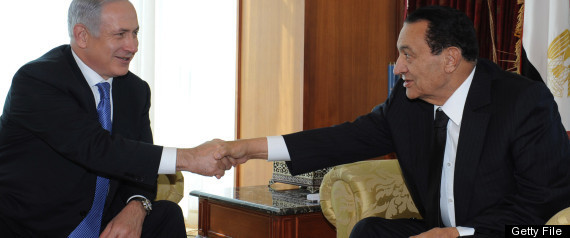 JERUSALEM — Israeli officials said Monday that they have agreed to let Egypt move several hundred troops into the Sinai peninsula for the first time since the countries reached peace three decades ago.
With street protests threatening the Egyptian regime, the officials say that Israel allowed the Egyptian army to move two battalions – about 800 soldiers – into Sinai on Sunday. The officials said the troops were based in the Sharm el-Sheikh area on Sinai's southern tip, far from Israel.
Under the 1979 peace treaty, Israel returned the captured Sinai to Egypt. In return, Egypt agreed to leave the area, which borders southern Israel, demilitarized. The arid peninsula lies between Egypt's mainland and Israel, and Israel was worried about an Egyptian invasion then.
Now, as the unrest in Egypt has spread, Israeli officials have grown increasingly concerned about the stability of their southern neighbor. They are especially worried that Palestinian militants could take advantage of the unrest to smuggle weapons into the Gaza Strip through tunnels under the Egypt-Gaza border.
The Israeli officials spoke Monday about the troop movements on condition of anonymity because Prime Minister Benjamin Netanyahu has banned the government from discussing the situation in Egypt.
There was no confirmation from Egypt, and David Satterfield, the director general of an independent 12-nation monitoring force in Sinai, refused to comment.
Shmuel Zakai, a retired general who once commanded the Israeli military's Gaza division, said the arrival of Egyptian troops in Sinai was a positive development.
"I think it's an encouraging sign that they are doing it in coordination and not in a one-sided step," he told Israel's Army Radio station. He predicted in the future that Egyptian forces would move deeper into the Sinai to control "high concentrations of armed Bedouin gangs."
Netanyahu said Sunday that Israel is "anxiously following" the developments in Egypt – reflecting Israel's concern that Egyptian President Hosni Mubarak's days in power could be limited. Mubarak has been a key ally for Israel, strictly honoring the peace treaty during his 30 years in power and frequently acting as a bridge between Israel and the Palestinians to the broader Arab world.
Israeli President Shimon Peres said "we always have had and still have a great respect" for Mubarak. "I don't say everything that he did was right, but he did one thing for which all of us are thankful to him: He kept the peace in the Middle East," Peres said Monday.
In an interview, international Mideast envoy Tony Blair said Monday that a change in Egypt's leadership appears inevitable. "Change will happen. You can't put the genie back in the bottle now," he said.
The former British prime minister did not say explicitly whether Mubarak should step down. He said it's important that Egypt holds proper elections and that any transition be peaceful.
"People want to get to a position where the Egyptian people are able to express their will in free and fair elections," he said. "But I think the watchword is change with care, because at the same time we have to make sure any change occurs with stability and order."
In particular, he said he was concerned that unrest in Egypt could disrupt the Israeli-Palestinian peace process.
Blair represents the international "Quartet" of Mideast peacemakers – the U.S., the European Union, Russia and the United Nations – which is set to gather next week to discuss stalled peace efforts between Israel and the Palestinians.
He acknowledged the unrest in Egypt has put Western powers, especially the U.S., in the difficult position of choosing between a longtime ally and a grass roots protest movement demanding more freedom.
"I think when people criticize America over this, they're being a bit unfair," Blair said, adding that President Barack Obama has handled the crisis in "the only way he can."
"That's why the sensible thing to do is to partner the process of change and make sure we get the right change, with order," he said.
Blair said the focus of the upcoming Quartet meeting would be to get the sides talking again, a task he acknowledged has become more difficult by the situation in Egypt.
Negotiations have been stalled for more than three months because of disagreements over Israeli settlement construction in areas claimed by the Palestinians.
"I think there's one key issue really that is necessary to revive direct negotiations and get this process back under way, and that is to give credibility to the notion that we want a Palestinian state," Blair said.
Meanwhile, Israel's flagship carrier, El Al, said it has expanded its capacity to fly Israelis out of Egypt. The airline said 400 Israelis arrived from Cairo early Monday, and another flight was expected later in the evening.
Copyright 2014 The Local Paper. All rights reserved. This material may not be published, broadcast, rewritten or redistributed.