9to5Mac recently got its hands on what appears to be a glossy LCD screen for the next-generation iPad (aka "iPad 2"), and inspection has revealed that it has a smaller, lighter build than the display found on the current iPad.
This unconfirmed iPad 2 display comes "fresh out of China," courtesy of iFixYouri, an idevice repair service and blog, which reports that the new LCD has narrower bezels and is 1mm thinner and slightly lighter than the original iPad's display. In addition, this iPad 2 display will likely feature the same resolution as the current iPad (1024 x 768 pixels).
We've heard before that the next iPad release could be slimmer and lighter and sport narrower bezels than the current model. As the iPad 2's speculated release date (early April) inches closer, it seems ever more likely the the iPad 2 will be a more compact device--but the differences could be minor.
Placing this iPad 2 display beside an iPad diplay for comparison, iFixYouri's repairmen were a bit let down. "Honestly, we were hoping to be blown away, but we're not," iFixYouri writes. "The cable connector is slightly different. This makes us think that they're going the similar route that they did with the iPhone 3G to the 3Gs, where the LCD's were pretty much the same, but the connectors were different."
Neither 9to5Mac nor iFixYouri mentioned the much-anticipated dual webcams that many hope to see on the next-generation iPad. Apple is expected to announce the new device sometime in February or March.
To see 9to5Mac's and iFixYouri's side-by-side comparison of the possible iPad 2 display and the original iPad display, check out the photos (below). See our guide to iPad 2 rumors here.
LOOK: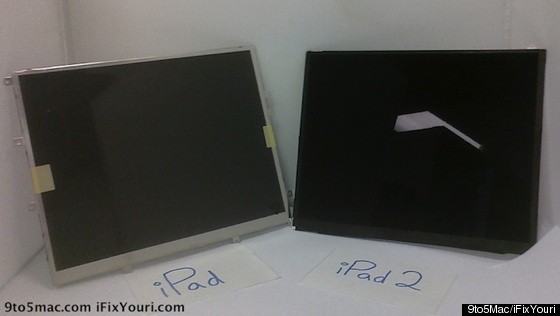 LOOK: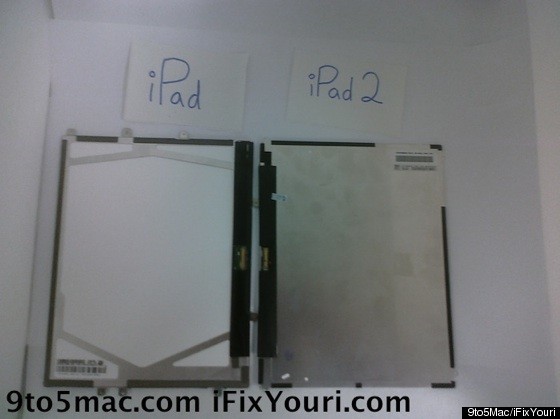 LOOK: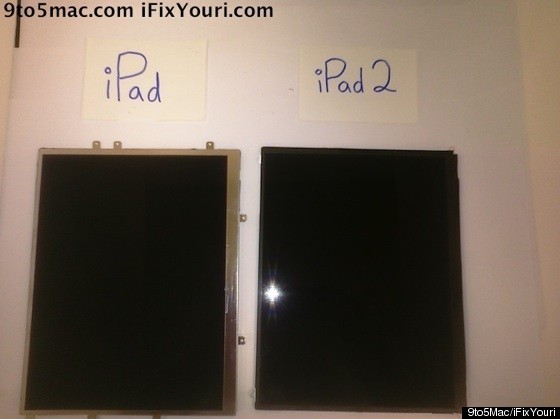 FOLLOW HUFFPOST