As the crisis in Egypt continues to provoke a flurry of web conversation, the talk on Twitter has been predominantly negative about the Obama administration's response.
According to a study by Crimson Hexagon, the vast majority of Twitter opinion is negative. Seventy-nine percent of opinions surveyed (of 11,582 relevant Tweets) believe the U.S. is doing a poor job.
A few different reasons appeared to account for these downbeat views. About 22 percent of opinions brought up the belief that the U.S. was too neutral. People also voiced the opinions that the administration was not outspoken enough and should oppose Mubarak more strongly. Another 12 percent of opinions found Obama to be hypocritical in some way. For example: ""Obama wants Egypt to have internet, but he wants his own kill switch here. What a hypocrite!"
A mere 11 percent of relevant Twitter conversation supported the U.S. response, with another 10 percent neutral.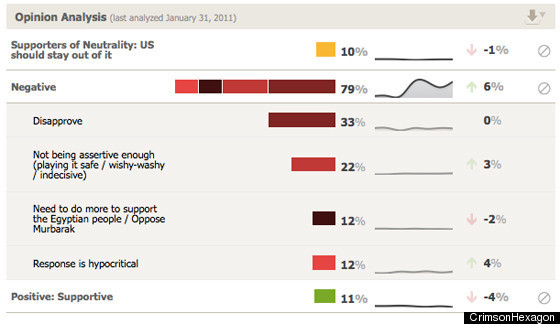 SUBSCRIBE AND FOLLOW
Get top stories and blog posts emailed to me each day. Newsletters may offer personalized content or advertisements.
Learn more