Welcome to our new blog, "The Watchdog," which will keep a close eye on regulatory agencies and how their actions impact the lives of everyday Americans. Though the rules and regulations they write -- from determining how much arsenic is allowable in your drinking water to whether your favorite TV show can drop the F-bomb in primetime -- affect all of us, their deliberations and the way that lobbyists influence their decisions receives very little coverage.
To make sense of these debates, follow the implementation of health care reform and financial reform and decipher the minutia of the Federal Register, "The Watchdog" is on the case. If you have any tips or suggestions, send them to marcus@huffingtonpost.com.
02/08/2011 3:05 PM EST
PHOTO: Oversight Hearing Almost Ready
Rep. Darrell Issa, the chair of the House Oversight Committee just tweeted this photo of the hearing room, which is under construction and almost ready for Thursday's hearing on regulatory impediments to job creation.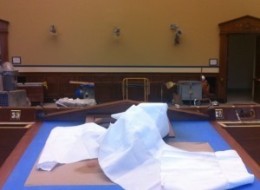 02/08/2011 2:21 PM EST
Witnesses Lined Up For Regulatory Impact Hearing
Rep. Darrell Issa's (R-Calif.) office has released the list of witnesses for Thursday's House Oversight committee hearing discussing regulatory impediments to job creation.
Per Issa's spokesman Kurt Bardella:
This hearing is an opportunity for private industry to put their money where their mouth is by specifically detailing real examples of how regulations are standing in the way of job creation. If they can't successfully do that, they'll be hard pressed to convince policymakers and the American people that regulatory reforms are needed. President Obama has recognized the value in having this discussion and has called on industry to get off the sidelines and actively engage in this dialogue and together we can lead a robust and expansive discussion answering the fundamental question of what is standing in the way of private sector job creation.
The witnesses:
Jay Timmons, CEO, National Association of Manufacturers
Harry Alford, CEO, Black Chamber of Commerce
Karen Kerrigan, President, Small Business and Entrepreneurship Council
Tom Nassif, President and CEO, Western Growers Association
Jerry Ellig, Senior Research Fellow, Mercatus Center at George Mason University
James Gattuso, Senior Research Fellow in Regulatory Policy, The Heritage Foundation
Michael J. Fredrich, President, MCM Composites, LLC
Jack Buschur, President, Buschur Electric
02/08/2011 11:48 AM EST
Report: Study On Regulatory Costs Used "Fuzzy Math"
Most of the congressional and industry critics of regulation who complain that rules burden business with the high cost of compliance cite a study by the Small Business Administration's Office of Advocacy which found that regulations cost the U.S. economy $1.75 trillion in 2008.
But the study failed to track the benefits of regulation, which tend to be hard to measure since they often are long-term improvements -- last year, the Office of Management and Budget reported that over the last decade, the benefits of major federal regulations (ranging from $128 billion to $616 billion) dwarfed the costs (ranging from $43 billion to $55 billion).
Today, the Center for Progressive Reform issued a report slamming the SBA study, saying that the $1.75 trillion figure is "based on questionable assumptions and fuzzy math." Coauthor Sidney Shapiro claims that the study overstated costs and was not sufficiently peer-reviewed, since only two people examined the document. In addition, CPR claims that the SBA study's coauthors, Nicole and Mark Crain, "did not show the full calculations they used to arrive at their cost estimates, and declined to furnish their raw data to CPR despite several requests."
Shapiro, a Wake Forest University law professor, sent a letter today to Karen Mills, the SBA Administrator, and Dr. Winslow Sargeant, Chief Counsel of the SBA's Office of Advocacy, calling on them to withdraw the study and disavow its findings.
02/08/2011 11:28 AM EST
The Wake-Up Call: High Court Too Stupid To Understand C02 Regs?
- Are these congressmen saying the Supreme Court is too stupid to understand the complexities of carbon dioxide regulation?
- Citizens for Responsibility and Ethics in Washington released searchable versions of the letters sent to House Oversight Chairman Darrell Issa (R-Calif.) in response to the lawmaker's request for a list of burdensome regulations.
- As the Commodity Futures Trading Commission (CFTC) starts enforcing Dodd-Frank regulations, it is likely to find at least a dozen retail forex (foreign exchange market) dealers who have failed to register as required.
- Tweet Beat: #Fitzsimon Wonder when proponents of freezing all state regulations that have a cost will come up with example of a regulation that's a problem? #ncga
SUBSCRIBE AND FOLLOW
Get top stories and blog posts emailed to me each day. Newsletters may offer personalized content or advertisements.
Learn more