An iconic building in the heart of downtown Chicago is soon to be occupied by a Target.
The former Carson, Pirie, Scott and Company store on the corner of State and Madison was designed by legendary architect Louis Sullivan, a mentor to Frank Lloyd Wright and a master in his own right. The building is one of the premier examples of the Chicago School, and its cast-iron scrollwork and terra cotta facades are recognizable to anyone familiar with the Loop.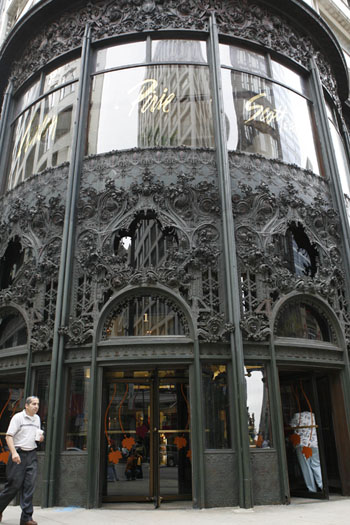 (Photo by the Associated Press)
Carson's announced in 2006 that it would be closing its doors, leaving the beautiful building it had occupied for more than a century vacant. TIF funds have been pumped into the building to renovate and restore it, and the city sought a new tenant.
After lengthy negotiations, it finally struck a deal with Target. The store will open one of its new "CityTargets," a line of (relatively) smaller retail spaces targeted at urban consumers. It's looking to open a dozen such locations around the country.
The Chicago Sun-Times reports that the store will offer some fresh food (though baked goods, meats and seafood won't be on offer), as well as apartment needs and some more fashionable lines of clothing. It will cut out items like patio furniture that are more suited to suburban clientele.
According to the Chicago Tribune, Mayor Daley couldn't be happier to get one in the Sullivan Center:
"I applaud Target for bringing this urban store concept to Chicago, as well as the new jobs and economic opportunity this store will create," Daley said. "Target will be an important addition to State Street, one of Chicago's most important retail centers, and will be located in one of city's most architecturally significant buildings."

"State Street's not just State Street," the mayor said, while standing amid ornate columns in the otherwise-empty first floor of the Sullivan Center. "It's Michigan Avenue, it's Wabash, it's Dearborn, it's Wacker, it's Clark, it's Roosevelt Road. It's all of it. It's not -- it has to be more than just one street, and that's what it is. I mean, everything's connected."
Not everyone in Chicago was quite so ecstatic. "*sigh* I miss the old State Street," Twitter user @RoMustGo wrote in reaction to the news, summing up the sentiments of many online readers.
Let us know what you think: