Detroit Symphony Reject Contract Offer, Prolonging Strike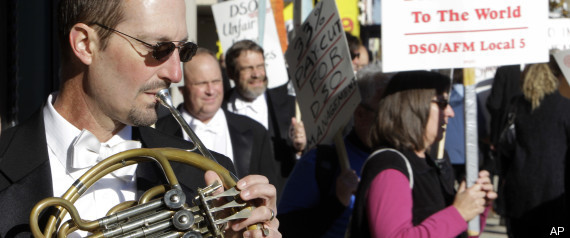 DETROIT — Striking Detroit Symphony Orchestra musicians rejected the latest contract proposal from orchestra management, but the disagreement has narrowed, a spokesman for the musicians said Wednesday.
Musicians spokesman Haden McKay said there could be an agreement if management could find a way to direct $2 million in donor-restricted funds to the musicians. He said the money is intended for community outreach programs.
"We're not that far apart," he said.
Management officials submitted the proposal last Friday, and it included a stipulation that the musicians must respond by Friday.
Management spokeswoman Elizabeth Weigandt said a statement was expected to be released later Wednesday.
Teams representing management and musicians met in late January for the first time since November, but those talks collapsed as they accused each other of not adhering to a three-year, $36 million proposal made in December by then-Gov. Jennifer Granholm and U.S. Sen. Carl Levin.
The walkout began Oct. 4.
A statement on the musicians' website posted Wednesday said talks had been moving "in a positive direction" but the last major hurdle is related to a $2 million piece of the proposal designated for community outreach projects. Musicians say the terms of that part of the deal are too restrictive, and talks broke down Monday after about eight hours of bargaining.
Symphony management declared an impasse Sept. 1 and began implementing a 33 percent base pay cut for orchestra veterans, from $104,650 to $70,200 in the first year. Musicians had offered a 22 percent reduction in the first year to $82,000, which would increase in subsequent years.
Orchestra President and Chief Executive Anne Parsons said last week that the strike, which threatens to end the season if a settlement isn't soon reached, isn't the only financial strain on the organization. Symphony leaders are trying to renegotiate a $54 million loan for the Max M. Fisher Music Center. That debt was part of a bond due in 2030 but a bank group paid bondholders and the debt must now be paid by the orchestra.
Copyright 2014 The Local Paper. All rights reserved. This material may not be published, broadcast, rewritten or redistributed.