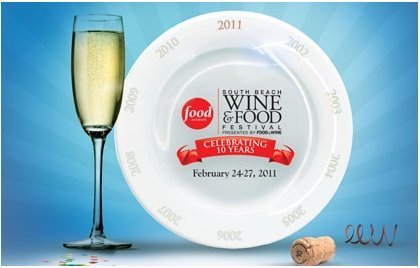 02/26/2011 7:53 PM EST
How To Not Sell Out
At a fascinating panel early Saturday put on by The Feast and Bullfrog & Baum here at SoBe, Chefs John Besh, Scott Conant, John DeLucie and Marc Forgione spoke candidly on the concept of 'selling out' and shared their varying experiences with toeing that line while approaching and achieving fame. Some highlights:
Scott Conant:
"I look at TV shows on Food network as an advertising platform to get people in the restaurant. I look at it as something to fill the blanks in the reservation book. And it seems to work."
"I try to be that person that stays in the kitchen all the time and focuses on the customer. I tried to that, it just didn't work for me. I just couldn't do it. I opened a second restaurant and eventually…I opened a few more. I love being at the bookends of this country between Toronto and New York and Miami and Los Angeles. The opportunity was to create a restaurant where I could be among the best in each market I opened in. And for the most part I think we've achieved that [in the Italian restaurant market space]. I don't know what the term selling out really means, because it's evolved so much. We've all been there, saying no way am I ogling to be like that guy."
"I think television is the most relevant platform now. Who knows what's going to happen with the internet. No one's done anything truly [impactful] on the internet with cooking and food yet, as far as I know -- aside from blogs and that."
"Everything that Martha Stewart does sells everything else that she's trying to do. She has her television show, she does a segment on flowers, her website gets a million hits for people on flowers. It's genius, the simplicity of it is genius. And she's the first one to do it on that level. I can't say enough nice things about her."
Marc Forgione
:
"I can speak first-hand on this as my restaurant went from kind of busy to fully booked, week by week with the Iron Chef America airings. Is that selling out? All I did was selling out my restaurant. The food hasn't changed, but I just watched it happen. I don't think there's any reason to avoid it. Everyone that's up here is still themselves, just because there's a TV camera doesn't mean you're someone else."
"One of the reasons I got on to The Next Iron Chef was the [incident with the] Times writer in the restaurant. And there was all this stuff on the internet about me being a psycho. My first day on Iron Chef, they said, give us some anger, give it to us like the New York Times writer. i'm actually a very nice guy and I was a bit disappointed at first."
And
John DeLucie
in particular was a quote machine. From him:
"At this point my restaurant is a lifestyle thing, it's not exactly a gastronomic endeavor for me. It's a place where people go and have fun and have a good time. Ten years ago I never would have said that or admitted that or wanted that for myself. I have a great roast chicken but big deal, so does everybody on this panel. 'My roast chicken is better than your roast chicken' -- does it even matter? That's not even the point anymore."
More compellingly, "But television is something you can't avoid. You want a ot of people in your restaurant, and you want a lot of people in your restaurant at 5:30, and that's what television accomplishes."
"I don't have this big PR strategy, things come up very organically and hopefully I can identify what's good ... and I had a partner who was the editor of Vanity Fair magazine, which doesn't hurt."
FOLLOW HUFFPOST