Danny Pye, Christian Missionary Wrongly Interned In A Haitian Prison, Has Fallen Into A Media Black Hole [UPDATED]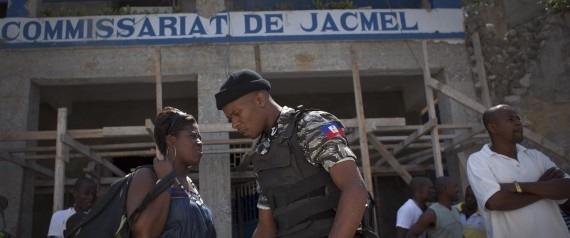 UPDATE, 3/16: Abe Sauer emails me today to report some good news: Danny Pye has been freed. With any luck, he will soon be in the company of his wife, who is about to give birth.
_______________
Two weeks ago, Abe Sauer reported on the plight of Danny Pye, a Christian aid worker who has been detained in a Haitian prison for five months, without charge, during which time he has been deprived of food and water. The prison, in Jacmel, is a festering hole, described as a "toilet." Pye has, during his internment, contracted malaria and gastroenteritis. He has seen his fellow inmates contract cholera. He's seen some of them beaten, one to death. Pye has himself been tased.
But more importantly, Pye has fallen into a black hole in the media, and today, Sauer wants to know why that is. The Huffington Post is among the organizations cited for failing to report this story. It is a fair point! So let's rectify this.
As Sauer has reported elsewhere, last year's massive earthquake brought out the dregs of the Christian missionary world, who took U.S. tax dollars to exploit the tragedy. But Pye wasn't part of that -- he'd been in Haiti doing missionary work since 2003. The couple established a ministry that operates 16 schools, serving underserved children.
How did he end up in jail? It's almost farcical:
Last year, Danny and Leann separated from the ministry they founded to go their own way. After some negotiations and conflict, Pye and a representative of the organization appeared before a local magistrate on October 13th, to negotiate the legal dividing of property and other assets. Pye, to everyone's surprise, was ordered to prison.

No charge was leveled by the judge against Pye. He was only told that he would not be released until he signed over his old assets--which he did, on October 16th. His family was then told he was being held in the court's custody, pending an investigation. Haitian law allows judges to imprison a person for up to 90 days without charge while awaiting an investigation.
Pye nearly made it out of stir on Christmas Eve, but he was literally "spun around" and sent back on new, equally baseless charges, as he was walking out to meet his wife.
From there, it has been a brutal process of trying to get him out, with Embassy officials turning their backs on his plight and lawmakers offering no assistance. And since Sauer interviewed Pye, the sole mention in the press has been this story by the Associated Press.
Sauer today relates:
Last Thursday, two days before the AP story was filed, Pye said that rumors about some prisoners planning a break-out circulated in the prison. The guards caught wind of the plan and, to make an example, lined the entire prison up in the yard and forced them to watch as the conspirators were beaten viciously. Pye said that at least one died.

Subsequently, all prisoners, including Pye, were denied food or water for 24 hours to send a message. Pye has also been Tased.

Meanwhile, one lawyer having other business with the judge in the case, Maxon Samedi, said that Samedi has gone mad, become ill and has fled to be healed by a "hougan," a priest.

An American aid worker in Jacmel said that she doesn't buy that Samedi is sick. She said that she and Haitians in Jacmel believe "he is hiding from the accusations against his poor performance."

Judge Samedi has been reportedly given a month to recover from his injures sustained from the "par une main invisible." Currently, he is the only one who can sign the papers and, despite all the supposed great concern from ostensibly powerful authorities, including a U.S. government consul that practically runs the rest of the nation, Samedi will not be compelled to do so. Instead, he will be resting for a month.

This means the least--the least--of Danny Pye's worries is that he will miss the birth of his son.
Sauer is one hundred percent correct in pointing out that media attention makes a critical difference in these cases, and two weeks ago cited the failures of the diplomatic corps in bringing attention to Pye's plight:
Within a day of the arrest of an American accused of shooting citizens in Pakistan, embassy officials were publicly calling for his release. The State Department has loudly, and continually, issued statements calling for the release of the American hikers arrested in Iran (who are now on trial). State Department officials have even issued a demand for the release from Syrian prison of a young blogger... who isn't an American. When Khairy Ramadan Aly, an Egyptian carpenter employed by the embassy in Cairo, was killed just two weeks ago, the State Department issued statement of condolences from Secretary Clinton.

The embassy in Port-au-Prince as well issues press releases all the time. But not for Pye, even as he rotted away in a U.S.-funded hellhole, kept from doing a job that U.S. governmental bodies are proving themselves increasingly incapable of performing.

We spoke with a few journalists, one for a major US national source, all of who said they had never heard of the Pye case. Asked if they would have pursued the story had the the embassy in Port-au-Prince issued a statement about it, all confirmed that it absolutely would be newsworthy.
Two weeks ago, it was fair to finger embassy officials for failing to bring attention to this matter. But the story's out there, all the same, and so I think it's entirely in bounds for Sauer to call out the media for not rising to the task, as he does today:
The continued disinterest from America's major media sources is amazing. A nine-month pregnant Christian woman with a wrongly accused pastor husband who will probably miss his son's birth while enduring abuse in a Haitian prison offers no interest to Nancy Grace? After American college student Austin Bice went missing in Spain, his story littered the news. His parents were all over "Today" after he was missing for just a week. On Sunday, Pye will have been in prison for five months.

In a truly shocking turn, not even HuffPo has mentioned the case. Do you have any idea what an accomplishment it is that something like this has not found its way onto some page on HuffPo in two weeks? You couldn't do that with a story if you wanted to.
I can tell you that as a sometime contributor to and full-time supporter of The Awl, I often take on the task of disseminating Sauer's work to The Huffington Post audience or ensuring that our editors are apprised of important stories that he reports. To the extent that we have failed to bring attention to this matter, and in the hope that it will spur further attention to Pye's plight, this is something for which I take full responsibility.
RELATED:
Abandoned American Aid Worker Hits Five-Month Mark in Haitian Prison [The Awl]
[Would you like to follow me on Twitter? Because why not? Also, please send tips to tv@huffingtonpost.com -- learn more about our media monitoring project here.]