Edible Bands Tournament Bracket: Pick The Food Fight Chompion!
Whisking together three of his loves -- music, food, and March Madness (plus a penchant for obnoxious trivia), HuffPost Alum David Weiner put together the ultimate in a battle royale -- with cheese! Feast below on a 64-'team' NCAA-style single-elimination tournament bracket, seeded with the best in food-inspired band names, from over at something called a 'Tumblr' at thesaddest.com.
Yes, some band with a food name you like probably isn't on here and David is "well aware" that he will hear from you, particularly for the glaring omission of Ice Cube. Channeling his best John Wooden, Weiner understands, "This is the Internet so that just comes with the territory."*
Will The Smashing Pumpkins, a No. 1 seed, be undone by The Flying Burrito Brothers, a No. 8 seed, in the second round? Does a 6/11 first round match-up between Rosemary Clooney and the Lemonheads have the right ingredients for an herbaceously sour upset? Will No. 2 seed Phish go belly-up early on or unseat Cream in the quarterfinals to reach the Final Four and get a shot at the chompionship? All these questions and more, below.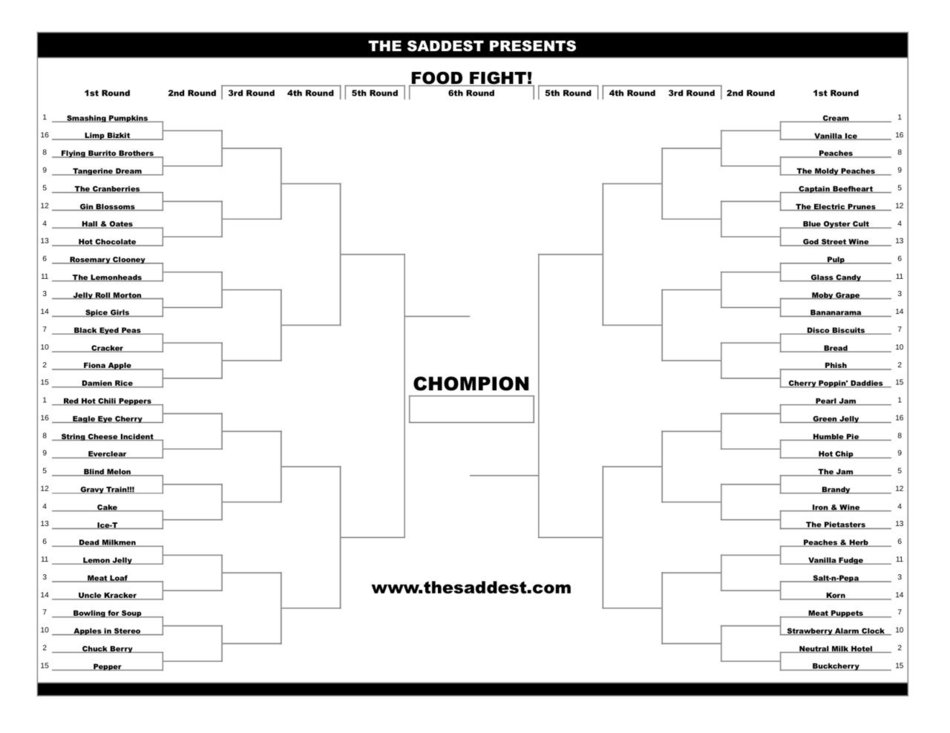 Used with permission from David Weiner at The Saddest