Late Returns: Santorum Says It's 'Silly' To Think He Can't Win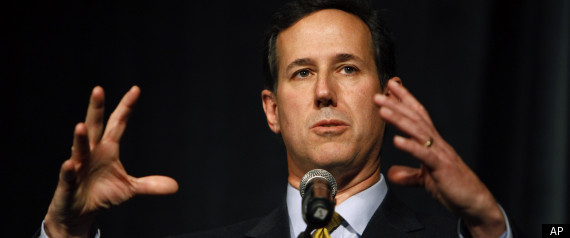 In an interview with CBN's chief political correspondent, David Brody, Rick Santorum says that it's "silly" to think that he can't win the GOP nomination in 2012. That said, he thinks that "Obamacare is the most important domestic policy issue that we have to deal with," which will probably come as something of a surprise to everyone who's come up on the wrong end of the massive unemployment crisis the nation is currently undergoing. As you might expect, however, Santorum's direct attack on the Affordable Care Act sends indirect fire in the direction of the presumed GOP frontrunner:
SANTORUM: I think Obamacare is the most important domestic policy issue that we have to deal with. It is bad policy, it is government control of health care, it's the wrong approach and anybody that supports an approach similar to it, I think is on the wrong track. They [Massachusetts] certainly had the right to pass this. I will agree with that. Unlike the federal statute, the Obamacare statute, which I think is unconstitutional. Clearly Massachusetts had the right to pass an individual mandate, and to have a government basically exercise control over the health care system. The question is is it the right thing to do? Not whether they had the right to do it, was it right to do? And I think it was not right to do, I don't think that's the way that you control costs. I don't think that's the way that you improve quality of care, and I don't think it's the way that you make sure that patients earn control of the system."
_________________________
David Frum on Tim Pawlenty: He's "the most plausible GOP nominee for 2012." But that comes with an "and yet" -- "And yet ... predicting Pawlenty feels like reaching the wrong answer on a math exam. You do the calculation and you arrive at the answer, Pawlenty. You think: that can't be right. You check the formulas. Yes, you have written them down correctly. You repeat the calculation. Same answer. And it still does not feel right." It would be unwise, I think, to dismiss the way Pawlenty manages to project adequacy, like a very intense shade of beige. [Frum Forum]
Steve Kornacki goes in another direction: "So, at least for now, my money's on Mitt. I just don't think Pawlenty has the chops to break out from the pack." [War Room @ Salon]
HOLY S#!T: OBAMA HAS JON HUNTSMAN IN A "DEATH HUG!" It is very deadly and very sexy, this hug! [Halperin]
Ben Smith says that if Sarah Palin runs for President, she will base her campaign in Scottsdale, Arizona. There, she will seek the critical endorsement of Brock Landers. [Ben Smith]
President Obama has banned "corporations and lobbyists from underwriting the" 2012 Democratic National Convention, which means the set designers will probably have to shop at Mike's Marbleopolis. [Politico]
[Would you like to follow me on Twitter? Because why not? Also, please send tips to tv@huffingtonpost.com -- learn more about our media monitoring project here.]

Subscribe to the HuffPost Hill newsletter!