Los Angeles Anti-War March On Anniversary Of Iraq War
Hundreds of anti-war protestors gathered at Hollywood and Vine on the eighth anniversary of the Iraq war yesterday afternoon. Organized by ANSWER (Act Now To Stop War And End Racism), the march matched similar protests across the nation. AP reports:
In California, hundreds of people marched in downtown San Francisco. Hundreds more, including students from more than 40 high schools and community colleges, marched in Los Angeles in protest of the U.S. presence in Iraq, organizers and police said.

Some used the rallies to draw attention to the new military action in Libya.

Photos by Getty.
Hundreds of anti-war protestors gathered in Hollywood to call for an end to military involvement in Iraq and Afghanistan. Were you there? Upload your photos here.
Find a picture, click the participate button, add a title and upload your picture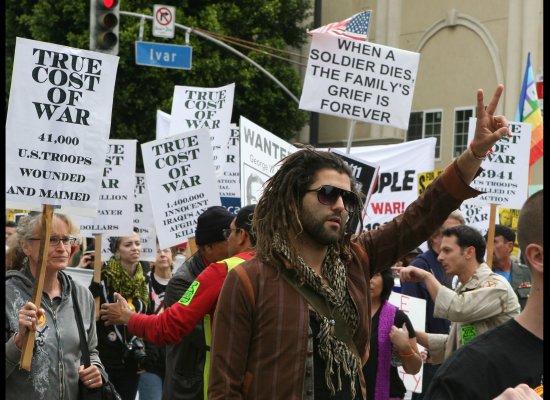 HLL

said on 20 Sunday 2011 pm31 3:49 pm:


Bravo! Bravo! Bravo! Go LA!! Standing O!!!

End the d*mn Middle East wars now!! Iraq, Afghanistan, Pakistan, Libya.... bring the troops home. We need to rebuild the USA ☮ ♥ ☮ ☮ ☮ ☮ ☮
Total comments:
129
|
Post a Comment