It's an amazing sartorial statement that appeared on our screens three days ago, but we're just getting to it now: Barbara Walters' hat.
Walters wore the hat on Monday's "The View." It is, to say the least, striking: a deep red creation with a huge red sash across it. Walters said that she was wearing it because she'd bought it in London, and she wanted to honor the show's upcoming royal wedding special. She also set it rakishly over one eye, giving her a distinctly Bogart-esque look. (Sort of.)
"You look like a sexy spy," Sherri Shepherd told her.
PHOTO: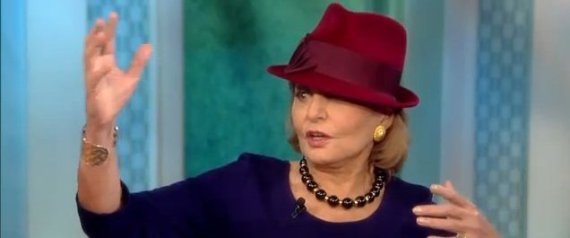 In a backstage video, Walters said she'd bought the hat from the Queen's own hatmaker.
Below, see video of Walters and the hat, and tell us whether you think Walters pulled it off.
WATCH:
Hilary Moss contributed reporting, sass.
SUBSCRIBE TO & FOLLOW THE MORNING EMAIL
Get top stories and blog posts emailed to me each day. Newsletters may offer personalized content or advertisements. Learn more