Nuclear Waste Next Door: Japan Crisis Spotlights America's Radioactive Waste Dilemma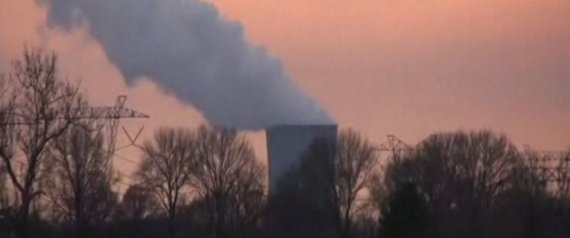 HANCOCKS BRIDGE, N.J. -- Driving along the meandering two-lane roads of this low-lying stretch of southern New Jersey meadows and wetlands, the towering Hope Creek nuclear power facility stands out above all.
Before daybreak and again in the afternoon, a steady stream of traffic to and from the plant fills the rural highways -- a basic rhythm of life here for nearly three decades. But on a recent afternoon at the town hall, locals accustomed to living in the shadow of industry were stocking up on potassium iodide, the same compound distributed to thousands in Japan to reduce the risk of certain kinds of radiation poisoning.
Designed in the mid-1980s, the Hope Creek reactor is a near-replica of Japan's crippled Fukushima Daiichi facility. It's also one of over 20 reactors across the United States with a massive elevated pool storing a hazardous -- and often overlooked -- byproduct of nuclear energy production: radioactive waste.
On-site nuclear waste storage has been at the center of the Fukushima crisis. When damage to a pool structure at one reactor caused water levels to drop, the combined energy of spent nuclear fuel rods went unchecked, sparking intense heat and radioactive releases.
The images and stories beamed from Japan have revived a scientific and public safety debate over nuclear waste storage in the United States, which a number of scientists have warned could be a prime target for terrorist attacks.
The massive stockpiles of superheated metal rods that emit more radiation than nuclear reactors themselves are constantly growing in the United States -- at a rate of 4.4 million pounds per year. Two-thirds of U.S. reactors have already reached their maximum storage capacity for the waste. Nearly all reactors will be maxed out within 10 years.
On-site radioactive waste storage has always been described as a temporary solution to a disposal process that plays out over tens of thousands of years. But for the last four decades, the U.S. government, environmental advocates and the nuclear industry have not come up with a permanent solution for radioactive waste. And in reality, on-site radioactive pools are acting as a long-term solution for discarded nuclear fuel in the United States.
"You wouldn't do that in your own household," said Helen Petrin, who lives about 15 miles away from the New Jersey plant and was picking up the iodide pills given out by the county health department at the town hall. "You wouldn't buy something that you didn't know how to get rid of."
A GROWING PROBLEM
For decades, as the nuclear industry has touted the front-end benefits of nuclear energy production -- virtually no contribution to greenhouse gas emissions, and highly efficient electricity production -- the back-end nuclear waste has piled up at plants across the country.
From a political standpoint, it has been a classic tale of pushback and procrastination over a thorny long-term dilemma. In the early days of nuclear power production in the United States, the industry thought spent nuclear fuel rods would be cooled for a short time and then recycled, or "reprocessed," for future use in reactors.
But in 1977, President Jimmy Carter banned the reprocessing of commercial spent nuclear fuel to limit the risk of plutonium, a key material of nuclear weapons, falling into the wrong hands.
Still, the waste needed to go somewhere. In the early 1980s, Congress passed a bill mandating the creation of a permanent waste storage site by 1998. The federal government later chose Yucca Mountain, a site in Nevada's Great Basin. A slew of lawsuits, political battles and environmental uncertainties held up that attempt at nuclear waste disposal for years.
Last year, the Obama administration decided to nix the project after intense opposition from the state of Nevada and many environmental groups. Several states have sued to reverse that decision, fearing that a future plan could saddle their state with the country's nuclear waste.
While the government has stalled over a permanent solution, most nuclear waste remains at the plants where it originated. Some fuel rods in "interim storage," as on-site waste storage is known, have not moved for decades.
"Originally it was not expected that spent fuel would stay at the reactor very long," said Charles Forsberg, executive director of the Nuclear Fuel Cycle Study at the Massachusetts Institute of Technology. "This is an anomaly of bad planning."
Subscribe to the HuffPost Money newsletter!