Google's homepage on March 3 celebrated the 119th anniversary of the first documented ice cream sundae.
Two Rivers, Wisconsin and Ithaca, New York both claim to be the birthplace of the first sundae. Google is apparently siding with Ithaca's claim, which dates back to 1892.
Reportedly, Sunday afternoon, April 3,1892, after services at the Unitarian Church, Reverend John M. Scott paid his usual visit to the Platt & Colt Pharmacy in downtown Ithaca. Shop proprietor, Chester C. Platt (1869-1934), was church treasurer and he met often with Scott for conversation after services. Seeking refreshment for himself and the reverend, Platt asked his fountain clerk, DeForest Christiance, for two bowls of ice cream. But instead of serving the reverend plain vanilla, Platt took the bowls and topped each with cherry syrup and a candied cherry. The finished dish looked delightful and tasted delicious — so much so that the men felt obliged to name the new creation. After some debate, Scott suggested that it be named for the day it was created. Platt concurred and the first "Cherry Sunday" was born.
Two Rivers's tale of the original sundae is said to have taken place in 1881 in the ice cream parlor of Ed Berners. According to What's Cooking America, this story is the less likely of the two. "Wisconsin birth records indicate Edward Berners was only 17 years old in 1881, and thus unlikely to have been the owner of a ice cream parlor."
PCMag.com notes that several other cities--including Buffalo, New York, and Plainfield, Illinois--have also laid claim to the first sundae.
Check out Google's retro logo (below), styled after an old-fashioned ice cream parlor sign.
LOOK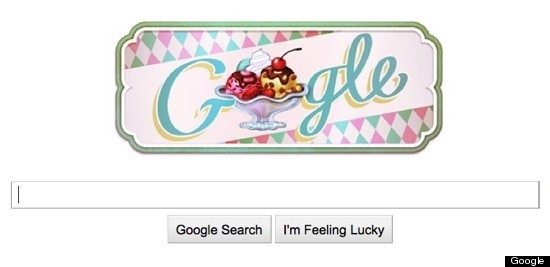 SUBSCRIBE TO & FOLLOW THE MORNING EMAIL
The Morning Email helps you start your workday with everything you need to know: breaking news, entertainment and a dash of fun. Learn more