'Fox News Watch' Forced To Start Over After Error About NBC News (VIDEO)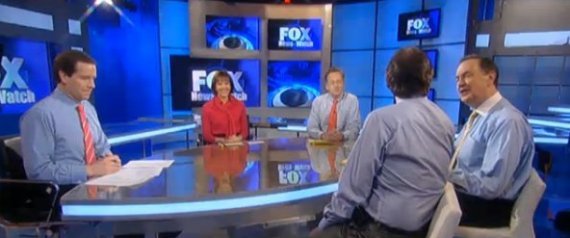 A Fox News show restarted a segment after the anchor got a fact about a story wrong--and the flubbed first take of the segment was not only caught on tape, but uploaded online by Fox News itself.
The segment appeared on "Fox News Watch," the network's media analysis show. It concerned NBC News' coverage of parent company General Electric. The channel has drawn controversy recently for its slow response to a New York Times story which reported that G.E. paid no taxes in 2010, even though it made billions in profits. The story received wide coverage, but NBC News only did a report on Thursday, six days after the story appeared in the Times.
"Fox News Watch" was covering the controversy during its taping on Friday, but anchor Jon Scott's introduction neglected to mention the fact that NBC had gotten around to covering the story the night before. "It was a story for everybody else, including ABC," Scott asked panelist Jim Pinkerton Why not NBC?"
"They covered it last night," Pinkerton said, prompting a surprised, "Oh!" from Scott. "Better late than never," panelist Judy Miller said. Fellow panelists Alan Colmes and Cal Thomas started in on the story, but in the middle of their argument, a voice said "cut!" off stage.
The show's producers and the panelists then discussed what they were going to do in the next take of the story. Pinkerton told Scott they should re-do the segment because "I don't want you to wind up looking bad if I correct you in the first second."
"The point is that it took them a week, basically," Scott said. "I'm all set to pound away on this," Pinkerton said. "And I am too, on another issue," Miller said.
Then, the graphics for the show were shown once more and Scott re-did his take, this time correctly including the fact about the Thursday story. For whatever reason, all of this made it into the show's online video.
WATCH: