The Cincinnati Zoo saw its first giraffe birth in 26 years this weekend.
Zoo officials announced today that the calf, which is currently unnamed, is a girl, according to Fox 9. The name of the baby giraffe will actually be selected from suggestions solicited on the Zoo's Facebook page.
The baby's mother, a 1,800-pound Maasai giraffe named Tessa, was the first giraffe to give birth in the zoo in 26 years, according to NPR. Apparently it took days to determine the calf's sex because researchers did not want to interfere with its bonding process.
The baby likely weighs close to 100 pounds, but is yet to be weighed.
WATCH (WARNING: The video contains footage of the giraffe's birthing process):
The newborn giraffe with its mother, from the Associated Press: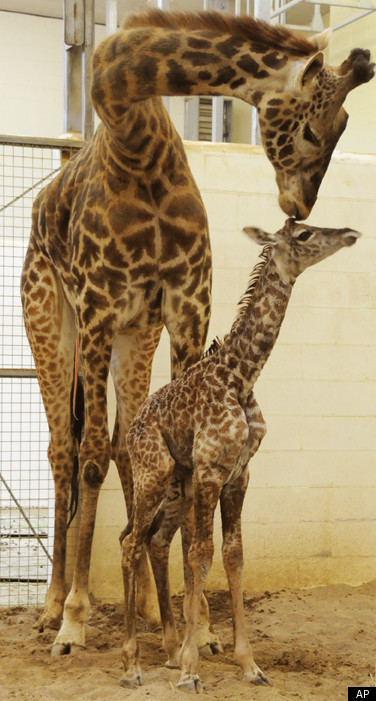 SUBSCRIBE TO & FOLLOW THE MORNING EMAIL
The Morning Email helps you start your workday with everything you need to know: breaking news, entertainment and a dash of fun. Learn more