College Professor Rankings In Texas Spark National Debate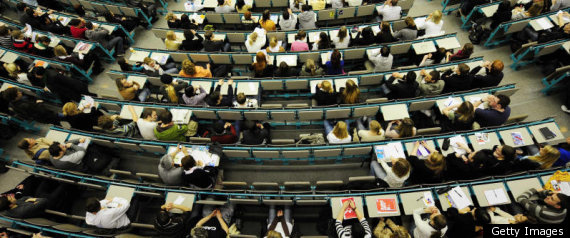 THE TENURE TRACK
According to the College and University Professional Association for Human Resources, full professors at four-year colleges and universities on average earn between $70,000 and $100,000. Business professors reside at the high end of the pay scale; theologians rank among the lowest. And for the second year in a row, faculty members at public colleges have not seen an increase in pay. Meanwhile, those teaching at private colleges have seen an average raise of only two percent.
Still, Andrew Hacker, who's taught political science at Queens College for more than 40 years, is troubled by the compensation rates for those at the superstar end of the academic spectrum. Last year, he and Claudia Dreifus co-wrote the book "Higher Education?: How Colleges Are Wasting Our Money and Failing Our Kids -- and What We Can Do About It."
In it they wonder what a professor at Yale University, who makes $817 an hour and gets every third year off, does to earn such a high salary. You can hear Hacker describe how they calculated such a high hourly rate in a video interview below:
"Yes, I know they're going to talk about grading papers and committee assignments, but I've seen enough of the top professors to know they never change their lectures, their graduate students do all their grading, and the committee stuff is a waste of time, anyway," he says.
Hacker isn't alone. "We see an enormous variation in what people do and what they get paid to do it," says Richard Vedder, who directs the Center for College Affordability and Productivity in Washington, D.C. and is a professor of economics at Ohio University.
"Money gets dropped out of airplanes over our campuses, alumni are nostalgic about their alma maters, legislators want to provide economic access -- and there's no accountability," he adds.
Vedder describes Texas A&M as "a pioneer, whose attempt is not only a noble effort, but one that I predict will spread." Using the Texas A&M data, he and his team of researchers analyzed whether a relationship exists between the amount of money a professor makes and the number of students he or she teaches. The results are mixed.
Matthew Denhart, administrative director of the College Affordability center, conveyed the findings using this calculus: "Professors with tenure make more money; the more a professor teaches the more money he or she makes; and the professors that bring in research money get paid more than those who do not."
Even if such measurements are less than perfect, others say universities will grow more accountable by becoming more transparent. Texas A&M's data release caught the attention of Michael Hout, who teaches sociology at the University of California, Berkeley and studies issues of accountability in higher education. He applauded its goal, saying that "public universities get the desired results but function as 'trust me' systems that exist behind closed doors, where the public can't see what's going on. This is an attempt to change that."
While Hout sees the Texas A&M model as fundamentally flawed, given its reliance on one number attributed to each academic, he also criticizes the University of California system, where assessment is based on a portfolio review and remains entirely hidden from the public.
"The future has got to include something in between, and right now the academic community and other stakeholders are trying to figure out where that middle ground is," said Hout. "If we're lucky, we'll come up with something appropriate in that process."
Some are less convinced. Daniel Hamermesh, an economics professor at the University of Texas at Austin, has been an outspoken critic. He frets that the Texas A&M metric might be used at his institution, and he described its narrowness as absurd and even dangerous: "People love concreteness and it's a very attractive thing, but this measurement is such a narrow aspect of what we do that it misses the overwhelming majority of everything else."
RED AND BLACK
When the Texas A&M University System released Ashley's spreadsheet last fall, Dudley L. Poston, a tenured professor of sociology, found the information too enticing to pass up. He recalled first typing in his own name, followed by the names of his fellow department members. He finally glanced at a dozen or so friends.
"I quickly discovered that I'm teaching more than most faculty, that I have more students than most faculty and that I'm publishing more than most faculty," says Poston. "But when it comes to financial accounting, I'm in the red."