Devon Butler Shooting: 2 Students Charged In Shooting Of NIU Football Player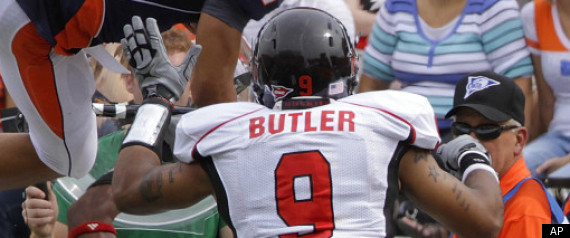 DEKALB, Ill. — Hospital officials say Northern Illinois linebacker Devon Butler's condition has been upgraded to serious.
Butler was wounded in a drive-by shooting while off campus Tuesday night. Authorities say a gunman in an SUV fired into the apartment building where Butler was visiting with friends.
Officials at OSF Saint Anthony Medical Center in Rockford said Butler's condition improved on Friday afternoon. He had been in critical condition since Tuesday.
Earlier this week, a judge set bond at $1 million each for two NIU students accused in the shooting. Butler is a junior from Pembroke Pines, Fla. He was in on 80 tackles – second on the team – and had 4 1/2 sacks.
Copyright 2013 The Local Paper. All rights reserved. This material may not be published, broadcast, rewritten or redistributed.