Chicago Weekend Violence: Two Children Shot While Playing In Yard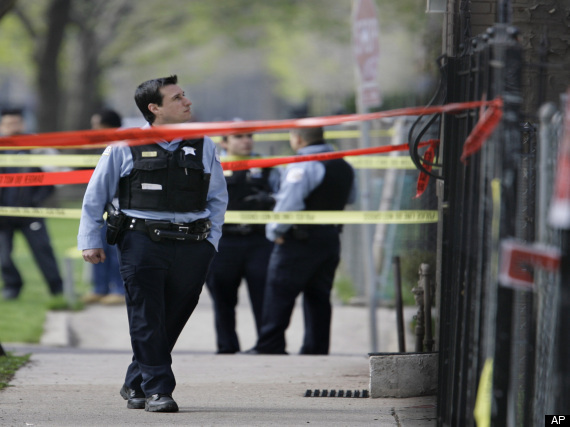 On an unseasonably warm Sunday, at least two children were shot, seven others injured and one killed in shootings on Chicago's South Side.
About 4 p.m., Tremon and Anamica Hill, ages 10 and 13, were playing catch in their yard when a man began firing shots from across the street, according to the Chicago Sun-Times. The incident happened in the 5100 block of South Calumet and police said they did not believe the children were the intended targets.
Both were treated and released from an area hospital Sunday night, but the incident has left the kids and their mother shaken.
"I might have to keep them in the house now," mother Tanya King told the Sun-Times. "I didn't think they would be shooting in the front. It was early."
She also told the paper she moved into the apartment weeks ago to escape the violence near her old home at 78th and Essex.
The Hill children were not the only youths injured in gun violence Sunday. The Chicago Tribune reports that a 15-year-old boy was shot in the Roseland neighborhood at around 5 p.m. Sunday by a masked gunman in a gold-colored vehicle. A 17-year-old also suffered a gunshot wound to his leg near 43rd and Washtenaw late Sunday.
Also around 4 p.m., Kristopher Daniels, 22, was shot multiple times in the 7400 block of South Vincennes Avenue, according to the Tribune. Daniels was reportedly stopped at a red light when someone jumped out of a van at the intersection and began shooting.
From the Tribune:
Daniels crashed his car after throwing it into reverse, and the gunman walked up and fire more shots into the driver's side of the car, police said.
Daniels was pronounced dead at Northwestern Memorial Hospital, according to Fox Chicago.
Others wounded in South Side gun violence on Sunday include a 20-year-old man who was shot in the 4800 block of South Forrestville Avenue, a 21-year-old man in the 400 block of East 46th Street and two men--ages 26 and 41-- were shot in the 4200 block of South Wabash Avenue. The 26-year-old was listed in critical condition.
The Chicago Police Department is investigating all incidents.