For the past year, Food52.com readers have been voting in weekly showdowns of reader-submitted recipes on a given theme. The winning recipes of each week will end up in Food52's upcoming cookbook, along with bios of the people who submitted them (Food52 explains the process in simple detail here).
Food52 and its co-founders Amanda Hesser and Merrill Stubbs have invited HuffPost Food readers to vote on week 29's contest (of the second year, and the second book).
This week's showdown is for the best recipe with horseradish.
Horseradish Vodka Bloody Mary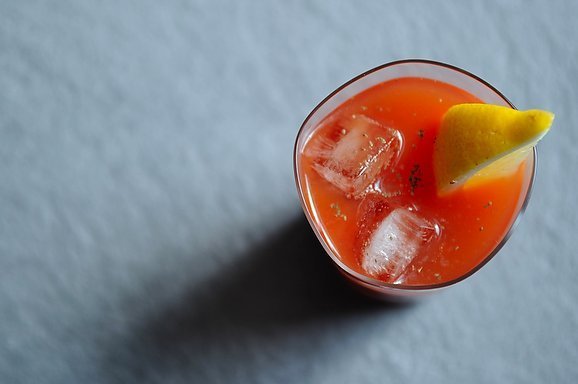 Photo: Sarah Shatz
Amanda and Merrill's notes on Horseradish Vodka Bloody Mary on Food52.com:
This is a classic Bloody Mary, with one very smart, feisty secret ingredient. NWB has you infuse your vodka overnight with dried chiles, black pepper and plenty of coarsely grated fresh horseradish. It takes all of 10 minutes to put together the night before and it's a step we may never skip again. It leaves a smooth, lingering heat in your throat and makes brunch that much more delightful. You can customize the booze level of each drink -- a 4:1 ratio of mixer to vodka worked well for the wimps among us, but feel free to crank it up. Note: This recipe makes more vodka than you need, so either double the mixer recipe (if you're serving a crowd), or -- oh well! -- you'll just have to have more Bloody Marys next weekend. - A&M
View the Horseradish Vodka Bloody Mary recipe here.
Herbed Beef Skewers with Horseradish Cream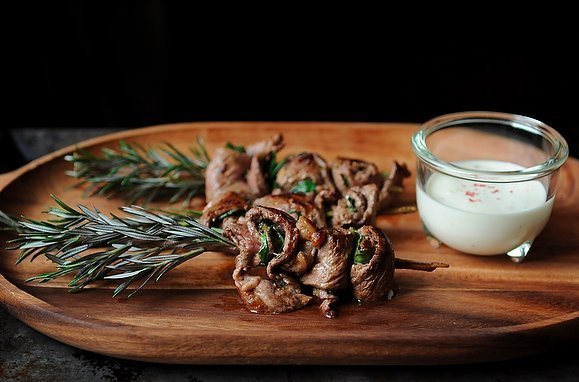 Photo: Sarah Shatz
Amanda and Merrill's notes on Herbed Beef Skewers with Horseradish Cream on Food52.com:
Oui, Chef's clever riff on the traditional Sunday roast had our mouths watering before we even fired up the stove. His marinated sirloin roll-ups are tender and succulent, and the rosemary skewers make for a pretty sensational presentation. The horseradish cream is tangy and lush, with a dual zip from both pink peppercorns and the prepared horseradish. It's up to you and your taste buds, but we used the maximum amount of horseradish. Because that's how we roll. - A&M
View the Herbed Beef Skewers with Horseradish Cream recipe here.
FOLLOW HUFFPOST