U.S., Taliban Not Ready For Afghanistan Peace Talks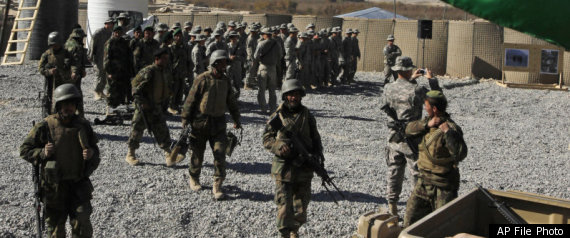 WASHINGTON -- As the Afghan war's 10th fighting season gets underway, both U.S.-led troops and Taliban insurgents are battered and bloodied. Military and civilian casualties are piling up on both sides. But prospects for peace talks seem remote, and international diplomats and others say any actual settlement is years away.
And yet, conditions for negotiations seem to have been reached: Neither the Taliban nor the United States has demonstrated the ability to conclusively defeat the enemy on the battlefield, and neither has been able to provide Afghans across the country with honest, effective government.
On the ground, American and Afghan combat units have made some advances, but in many districts insurgents remain dangerously active. Official Afghan corruption is pandemic, and efforts to jump-start local economies and governments are lagging.
After a decade of fighting, 50 percent of Afghanistan's key population centers are "reasonably safe,'' Gen. David Petraeus, the top coalition commander, said last month. But two of those "reasonably safe'' cities -- Mazar-e Sharif and Kunduz, both in the north -- recently erupted in lethal violence.
Veteran diplomats and some senior military officers concede the war is a "stalemate.''
If the stalemate continues, and if past trends hold, this year's combat could result in more than 750 American troops killed and over 12,000 wounded. In the first 60 days of this year, the number of American wounded increased 20 percent over the same period a year ago. The war has already taken the lives of 2,402 U.S. and allied troops. More than 10,000 Americans have come home wounded, many of whom will require lifetime care. Almost 9,000 Afghan civilians have been killed in the past four years alone.
In the U.S., what has become known to some as "President Obama's War" is increasingly unpopular. Even some conservative Republicans, perhaps spurred by the $5 billion per month cost of the war, are turning against it.
There are signs of war weariness on the Taliban side as well. The U.S. tactic of attacking supply and communication lines and cleaning out local insurgent sanctuaries appears to be paying off. In Kandahar this week, about 50 armed Taliban defected to the local government, Reuters reported. In testimony last month, Petraeus said that 700 Taliban have switched sides and another 2,000 are in "various stages'' of laying down their weapons.
In Afghanistan's fiercely local and tribal society, however, such defections and re-defections are common. In Mazar-e Sharif, a group of Taliban fighters who had earlier defected joined a mob that stormed the UN compound April 1, killing seven U.N. workers.
Not surprisingly, there are peace feelers extending from both sides -- though they remain unofficial and low-key, often conducted "back channel'' through third parties.
"Back channels are always useful, and there are quite a few that seem to be operating in Afghanistan,'' said Lakhdar Brahimi, a veteran Algerian diplomat and long-time United Nations troubleshooter. He oversaw the negotiations that helped transition Afghanistan from chaos in 2001 to the election of the Karzai government.
But, Brahimi cautioned, "back channels have to lead to a 'front channel,' as it were. And this is what we don't have yet, one main official, public, open channel that everybody trusts and accepts as the conduit for looking for a solution to the many problems of Afghanistan.''