Detroit's Mass Teacher Layoffs May Prove Bellwether For Education Reform Nationwide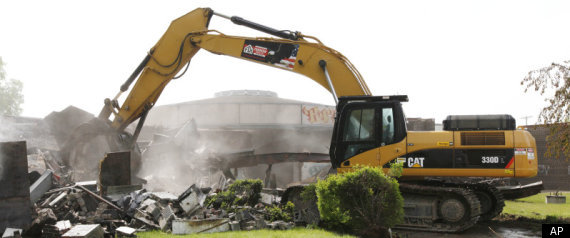 When districtwide layoff notices hit every one of Detroit Public Schools' 5,466 unionized employees late last week, an American Federation of Teachers spokeswoman called the move the largest "one fell swoop" firing of teachers in union memory.
More broadly troubling to teachers and education-reform observers, however, was DPS Emergency Financial Manager Robert Bobb's concurrent announcement that he plans to unilaterally modify the Detroit Federation of Teachers' collective bargaining agreement, the first test of a sweeping new state law.
Public Act 4, signed by Michigan Gov. Rick Snyder (R) in March, grants the emergency managers of troubled school districts the power to "reject, modify, or terminate one or more terms and conditions of an existing collective bargaining agreement." Under the law, Bobb could choose to abrogate the Detroit teachers' contract entirely.
"I fully intend to use the authority that was granted under Public Act 4," Bobb said in his Thursday statement. DPS spokesman Steve Wasko said Bobb has not yet "come to any conclusion about any specific changes to the contract," but made the announcement because it would be "prudent" to inform teachers of possible changes to their contract.
Bobb's legal right to abrogate the district's contract with the union may be the nation's most extreme example of an administrator's power over teachers. But education experts say Public Act 4 has come to represent more than the contract between Detroit and its teachers -- it's an example of the increasingly polarized state of education reform nationwide.
Attacks on public workers' collective bargaining rights have made headlines across the country, but perhaps nowhere has the issue been so hotly contested as when it comes to the rights of public school teachers. With school districts throughout the United States millions of dollars in debt, fights over teacher seniority are taking place alongside pushes to shift public money toward charter schools. Mayoral control, meanwhile, has pulled authority away from school boards in some districts, and lawmakers are seeking to mandate changes from statehouses and the judiciary.
THE SENIORITY FIGHT
Detroit's layoffs are not unprecedented, but they could signal a new trend toward mass layoffs for large school districts unsure of their finances but required by state laws to notify teachers of potential dismissals. 2011 is the first year to see entire districts fired.
In 2010, tiny Central Falls, R.I., made headlines when Rhode Island's education commissioner, Deborah Gist, announced that the entire teaching staff of the town's high school would be laid off and asked to reapply for their jobs under new evaluation models.
But schoolwide layoffs have spread across districts, and dozens of pink slips have multiplied into thousands. Two months before Bobb's announcement in Detroit, Providence, R.I. public schools officials said they would send a termination letter to each of the city's 1,926 teachers. Providence Mayor Angel Taveras also slated four elementary schools for closure.
In addition to the across-the-board firings, the Providence announcement was noteworthy for its distinction between laying off and fully terminating the district's teaching staff. Layoffs offer some rights to teachers, meaning a financial obligation that the mayor said the city and its $110 million budget deficit -- including $28 million short from schools -- couldn't afford.
Termination letters, as opposed to layoffs, ended that obligation and offered the city a choice in how it rehires teachers. To lessen the sting, the district offered a buyout, hoping to shrink the workforce through attrition. Mayoral spokeswoman Melissa Withers said 52 of 160 eligible teachers had agreed to take the $5,000 early retirement incentive.
She said the city would not know how many dismissals to rescind or how many teachers would be teaching next year until the school board finished its school closure review process.
"There's no scenario where the cuts don't get made, the question is how many cuts get made," Withers said.