Detroit's Mass Teacher Layoffs May Prove Bellwether For Education Reform Nationwide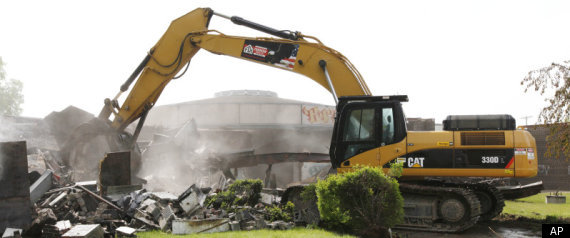 Districts looking to save money by cutting staff cite the need for "maximum flexibility." Taveras named "maximum flexibility" as the rationale behind his city's teacher dismissals and Wasko used precisely the same language in Detroit.
"This gives us maximum flexibility going forward," Wasko said. "We don't know how many students we're going to have this fall." He said a number of variables -- including charter school enrollment -- could affect overall student population by a swing of as much 5,000 to 10,000 students in either direction. "It's impossible to predict."
But teachers unions consider the blanket firings a bad-faith bargaining tool aimed at weakening the unions' power at the table.
"You can't send everyone a layoff notice and abrogate collective bargaining and slash pay and benefits beyond concessions they've already given and expect people just to go on with their everyday life," said David Hecker, president of AFT Michigan.
Some education policy analysts agree.
"Mass layoffs is a way to demoralize every teacher. It has nothing to do with school improvement," said Diane Ravitch, educational policy analyst and former U.S. Assistant Secretary of Education.
EDUCATION REFORM AND THE LAW
Layoffs might be one strategy for superintendents and other school leaders looking to work around teacher seniority. Taking to the legislature and the courts is another.
Michigan's Public Act 4 is the most extreme example, but lawmakers from New York to California are seeking ways to circumvent or eliminate public school teacher tenure, pushing for staffing decisions to be made based on merit rather than seniority.
Often, as in Detroit, layoffs and legal efforts work in tandem.
This year, the Los Angles Unified School District pink-slipped 4,485 teachers -- about 14 percent of its teaching staff. Gayle Pollard-Terry, the district's deputy director of communications, said that number is high, but not unusual.
"Generally thousands of layoff notices go out on March 15, and there is always a reduction in the number that are actually laid off," Pollard-Terry said. For example, in 2010, the district sent more than 3,000 pink slips but eventually only laid off 682 teachers.
Like officials in Providence and Detroit, Pollard-Terry said the high ratio of notices to actual dismissals was necessary because of uncertainty in the district's budget. "The layoff notices are based on the economic outlook," she said. "There's no way to predict what will change. In 2010-'11 layoffs were rescinded because teachers and administrators agreed to take 12 furlough days and shorten the instructional calendar by five days."
Similar plans are in the works for the next school year, she said. A budget proposal released by the superintendent last week calls for another round of furloughs.
For now, the Los Angeles district's teachers are still laid off and rehired based on seniority, but that could change at some or all of the city's schools.
A May ruling from an L.A. Superior Court judge upheld a deal that eliminated seniority as a factor in deciding layoffs at several low-performing district schools. The case is pending appeal from the United Teachers of Los Angeles.
California state Sen. Bob Huff (R) is sponsoring SB 355, which would allow districts to lay off teachers based on performance evaluations.
Legislation that would end so-called "last in, first out" -- or LIFO -- policies for teacher layoffs is also pending in Illinois and New York, again tied to mounting budget deficits and the threat of mass layoffs.
In late February, New York City released a list of 4,675 teachers that would be laid off in a "worst case scenario." The announcement came as the New York State Senate geared up for a vote on a bill that would end the teacher seniority system and allow the city to conduct layoffs based on merit.
On March 1, the bill passed the state Senate, 33 to 27. Yet it is not expected to fare as well in the legislature's other chamber, the state Assembly.