Trading Down: Laid-Off Americans Increasingly Taking Pay Cuts - And Kissing Their Old Lives Goodbye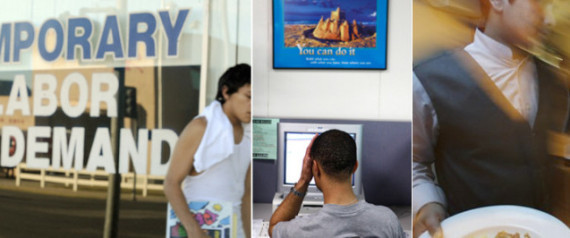 NEW YORK -- Susan Goscewski spent 30 years climbing the professional ladder. It took little over two years of unemployment for her to tumble back down.
Cast out of the workforce in December 2008 following the financial meltdown, Goscewski, 59, never expected to go for so long without a job. She had three decades of steady employment history and an MBA from Carnegie Mellon, one of America's top business schools. Her last position, as director of development for a nonprofit, paid $90,000 a year.
Last month, she finally found a new job: as a classroom tutor at a bookkeeping training center, working 20 hours a week for $15 per hour. Even if she works 50 of 52 weeks at that rate, she'll make just one-sixth of her 2008 salary.
"In this field, in this particular organization, I will never see what I've made before," Goscewski said quietly. "And I -- have I accepted that? I'm quite angry about it."
The U.S. economy added 216,000 new jobs in March, according to the federal Bureau of Labor Statistics, appearing to bolster claims that the labor market recovery is "gaining traction". But Goscewski and many others lucky enough to find work, any work, still find their old standards of living painfully out of reach.
"It makes me feel good that people are giving me work today. It means they trust me, they believe in me," Goscewski said. "But it still seems like a demotion, like I'm back in kindergarten again. What am I doing? I'm really starting all over again."
While the recovery of the labor market and the broader U.S. economy depend critically on job growth, equally important is the quality of those jobs. During the economic downturn, 40 percent of the jobs lost came from high-wage industries -- yet high-wage industries accounted for only 14 percent of the new positions created in the first year of post-downturn job growth, according to a report released in February by the National Employment Law Project.
Construction and finance, sectors which boast a median hourly wage of roughly $20, were among the hardest hit during the downturn. By contrast, about a fifth of all new jobs are being generated in the administrative/support, waste management, and remediation services industries and they offer a median hourly wage of $12.91. And many of those jobs are temporary positions.
Have you had to take a lower-paying job because of the financial crisis? Have you had to switch industries, accept a big change in quality of life, relocate or cut back? Tell your story below! We'll gather the best reader responses in an upcoming story.
"Trading Down": Have you had to take a pay cut?
Find a picture, click the participate button, add a title and upload your picture
Other lower-paying sectors in which employment has rebounded since the downturn include the retail and hospitality and leisure sectors. Manufacturing is one of the bright spots, but industrywide employment is still well below pre-recession levels.
Meanwhile, corporate profits continue to grow at a breakneck pace. Expectations for first-quarter profit growth are hovering at roughly 40 percent.
"We have an awful problem," said Lawrence Mishel, the president of the Economic Policy Institute. "We have a system whereby corporations have been able to achieve a level of productivity they had before the recession even with 8.8 percent unemployment. They managed to achieve prosperity without anyone else having any prosperity. To me, that's not an economy that's working well."

'I Still Feel Like I'm Really On The Edge''

After she lost her job in 2008, Goscewski struggled to find her bearings. In the spring of 2009, she joined a between-jobs support group.
The group spent an hour a week sitting on folding chairs in the choir room of St. Bart's Episcopal Church on Manhattan's Upper West Side. Rather than focusing on job-search fundamentals like resume overhauls and interview techniques, members primarily shared their emotional struggles and their means of working through those challenges.
When first unemployed, Goscewski held a relatively strong hand. She had been gainfully employed for decades and saved responsibly, never married and had no children to support. She was able to remain in the rent-controlled Manhattan apartment that had been her home since the late 1970s.
Still, by her latest calculations, her savings wouldn't carry her for much more than another year.
Morale within the support group sometimes seemed to sink further as the economy began to pick up, she said, when members looked around and saw new work that they remained unable to get.
Goscewski began the difficult work of redefining herself. She networked and sent out a flurry of applications with no success. In the fall of 2009, she started taking courses in bookkeeping. And while she didn't find it as challenging as her previous work, and knew the compensation could never equal her previous job, she forged ahead.
"I thought to myself, 'I never want to be in the situation where I can be let go from a job again,'" she said quietly. "And bookkeeping offers an opportunity to do work as long as you want. Is it something that I'm thrilled to do? It's interesting work, but it's not the most exciting work."
Goscewski dresses simply and wears a pair of wire glasses. Sometimes, she speaks in the pragmatic tones of a businesswoman back on her feet. But at other times she sounds less confident, like someone whose life is still bottoming out. Although she has found new work, she has no immediate plans to leave the unemployment support group. Like many who have gotten jobs back, but not their old careers, she feels her ordeal is not over.
"I still feel like I'm really on the edge," Goscewski said, sitting in a Manhattan tea shop after a morning working at the bookkeeping center. "I've really taken a big step backward and where am I going to go? Maybe I'll end up being not as far along as some of the students that I'm tutoring."
Since 2008, Goscewski has altered the way she lives in the city, cutting back on her subscriptions to cultural institutions in New York and other luxury items. Her perception of herself has also changed, she said, as her hours with the support group have put her in close contact with "a whole new group of people."
"It's really seeing things from the street, as opposed to from the 21st floor of a skyscraper. And I find I'm not entirely opposed to it, because I find the street--" Goscewski paused. "I think I'm shifting values over time."
When assessing the last two-plus years of her life, Goscewski sometimes blames herself for the massive cut in pay she's taken. She cites her age, her course of study at business school, her mid-1980s transition from the corporate world to nonprofit work.
But economists point to the numbers: more than 8.84 million private sector jobs were lost during the Great Recession. She is among the millions caught up in that storm and forced to settle for less during the brutally slow recovery.
For now, Goscewski said, she still needs the stability her support group provides, even if the sessions can be difficult.
"I went and told people how I felt, and that was not always great. I do think that some people over time left the group because they couldn't deal with the truth of the way people felt. It was too burdensome," she said. "But I always felt, if i didn't have an opportunity to say it there, where was I going to let it out?"
Only one thing might help her grow beyond a need for the group, she said: full-time work.

An Uneven Recovery And Stagnant Wages

The economy has been adding jobs each month for more than a year, but according to the most recent federal data, there are still more than four unemployed workers for every job opening. When considering the spiderweb of factors which forces workers to trade down in the job market, economists point to this supply issue first.
Subscribe to the HuffPost Money newsletter!