For-Profit Colleges Mount Unprecedented Battle For Influence In Washington



The morning after an 11th-hour deal to avert a government shutdown earlier this month, as many in Washington were still catching up on lost sleep, a group representing the for-profit college industry raced to send an online plea marked "urgent."
After a lobbying and campaign finance blitz totaling millions of dollars over the past year, the industry appeared to be on the verge of getting a special provision in the budget bill that would block increased government oversight of their schools. The matter was still not decided, they insisted.
"We need you to make calls this weekend!" urged the letter from the group to its more than 1,600 member colleges. "Members and staff are meeting over the weekend to finalize the details of the [bill]. We encourage you TODAY and throughout this weekend to contact the offices of your Congressman/Senators urging them to support inclusion of the … amendment in the final package."
The email communique was a last-ditch bid to protect the massive federal subsidies that have fueled the spectacular growth of what is now a multibillion-dollar, publicly traded industry in higher education. With student loan defaults growing alongside profits at many of the largest companies, the government is seeking more accountability for colleges that promise training for careers, but leave students with unsustainable debts.
As the stakes for this fast-growing industry rise, so have the dollars spent on an expansive lobbying campaign to ensure the government money keeps flowing.
Some of the largest publicly traded college corporations receive nearly 90 percent of their revenues from federal student aid programs. While government money fuels increased enrollments and record profits, the industry has poured increasing amounts of those proceeds into an unprecedented effort to preempt the rules through greater influence in Washington.
In other words, an industry that derives a vast majority of its revenue from federal funding is actively using that money to fight government efforts for accountability.
The last-minute scramble earlier this month was only the latest chapter in the industry's yearlong battle against increased federal oversight of their schools.
Overall, the industry spent more than $8.1 million on lobbying in 2010, up from $3.3 million in 2009, according to a Huffington Post analysis of lobbying data compiled by the Center for Responsive Politics.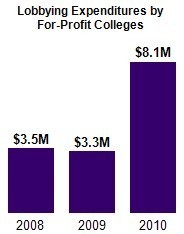 (Source: Analysis of data from the Center for Responsive Politics)
In addition, campaign spending from the industry's political action committees and executives increased to more than $2 million from $1.1 million between the 2008 and 2010 election cycles, according to a Huffington Post analysis of campaign finance records from the Sunlight Foundation's website, TransparencyData. The industry's political action committees and executives spent nearly twice as much on Democrats as on Republicans.
Industry representatives say the uptick in spending for a business that derives most of its money from the government is not at all unusual in Washington.
"It's not unique in any sense," said Harris Miller, the president and chief executive of the Association of Private Sector Colleges and Universities, "any more than it is for traditional higher education lobbying to get earmarks for their schools, or Boeing or defense contractors using their money to promote an agenda, which is to win a contract of the U.S. government."
For-profit college companies and trade associations have hired a dream team of Washington insiders to lobby on their behalf, however, bringing on 14 former members of Congress, including former Democratic House Leader Dick Gephardt. Some of the most powerful lobby shops in Washington have been employed in the fight: Tony Podesta and the Podesta Group; former Clinton special counsel Lanny J. Davis; numerous former staffers from the Department of Education and the education oversight committees on Capitol Hill.
Until scrutiny of the schools intensified last year, when the Obama administration announced plans for new accountability rules, many of the colleges' parent companies were known on Wall Street for their exemplary profit margins.
The stakes for industry executives and shareholders have been huge. Andrew Clark, the chief executive at Bridgepoint Education Inc., which owns two online colleges, brought home more than $20 million in compensation last year. Corinthian Colleges Inc., which owns a string of more than 100 campuses across the nation, saw profits increase from $4.5 million in 1999 to more than $146 million in 2010.
Revenues for publicly traded college corporations topped $20 billion last year.
The industry has not been shy about funneling its money into marketing. Ubiquitous advertisements for the colleges fill subway cars in major cities and are plastered on billboards along highways across the country. Advertising Age listed The Apollo Group, which owns the University of Phoenix, as one of the top 100 spenders on U.S. advertising in 2009: The company spent in excess of $377 million, more than Apple Inc.
But the outcomes for students at such schools have prompted deep concerns about the federal government's increased investments.
Students at for-profit colleges default on federal loans at double the rate of their counterparts at nonprofit schools, according to recently released data from the Department of Education. And although only 10 percent of students nationwide attend such institutions, they account for nearly half of all student loan defaults, leaving the government to pick up the tab.
On average, the tuition at many of the largest for-profit colleges is nearly twice that of in-state tuition at four-year public universities and more than five times the average tuition at community colleges, according to a Senate report released last year.
Critics have pointed to an unfair bargain behind those statistics: Students and taxpayers take on all the risk while the schools reap all the rewards, in the form of profits from federal money.
"Going to college should not be like going to a casino, where the odds are stacked against you and the house always wins," Sen. Tom Harkin (D-Iowa), a vocal critic of for-profit colleges, said at a Senate hearing last fall.
For their part, for-profit colleges argue that they provide educational opportunities for many Americans who would otherwise have no such options, and that additional regulation could deny such students advancement.
"It does literally threaten the existence of hundreds if not thousands of programs, and threaten the ability of hundreds of thousands of students to continue to get an education," said Miller, of the Association of Private Sector Colleges and Universities.
Advertisements in Washington newspapers and on websites across the country have broadcast the same message: The Department of Education is trying to prevent students from going to college, especially low-income students who have struggled in other educational fields.
Education advocacy groups, meanwhile, argue the for-profit college rhetoric skillfully twists reality.
"They've mastered the art of marketing," said Jose Cruz, vice president for Higher Education Policy at the Education Trust, a student advocacy organization. "In an attempt to protect the most important revenue source, which are the federal subsidies, they have launched this campaign to appeal to Americans' belief in choice and opportunity, particularly for those who have been traditionally underserved."
As the industry pours more money into lobbying, marketing and campaign finance, both Republicans and Democrats in Congress have shown their support.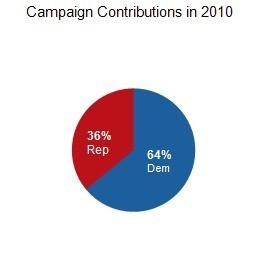 (Source: Huffington Post analysis of data from the Sunlight Foundation)
Subscribe to the HuffPost Money newsletter!