This post is part of a new series from HuffPostTech, Socialized, that will profile a different social startup--from apps to services to websites--every day. Want to be featured on the site? Email us about your startup, which should have a social media component and be less than two years old, at bianca@huffingtonpost.com.
WingTipIt provides an online social scrapbook for all your shopping finds, from coffeemakers to cardigans.
What it is: WingTipit co-founder Carla Holtze describes the site as "Twitter meets your universal wishlist."
Using a WingTipIt bookmarklet that clips content from other sites, users can share must-have items on their WingTipIt feed, save these pieces to their WingTipIt "closet," or instantly email the product to a friend for his feedback.
The name comes from the site's mission to help "wingmen sending product tips."
How it works: Much as Instapaper clips text and saves it on a third-party site to read later, WingTipIt copies images from online shopping sites and transfers them to a user's WingTipIt profile. To begin "tipping," users must first create a WingTipIt account using their email address or Facebook profile, then drag the WingTipIt bookmarklet to their browser's bookmarks bar. When a user finds an item he'd like to share, he clicks the WingTipIt bookmarklet and a pop-up will appear with an image of the product, a link to it, and its price, offering users the option to "save this item in my online closet," "suggest to a friend," or "ask a friend [for his/her opinion]."
WingTipIt allows some control over who sees what items a user imports: if a user adds a dress to her closet, she can choose to make the item visible to everyone, to her friends only, or make it for her eyes only. Users also have the ability to comment on others' "tipped" items and curate "lists"—essentially product playlists—that showcase the best goods in a particular category, such as "eco-friendly fashion" or "wardrobe staples."
Several new features are coming soon, including badges that recognize "tastemakers" and "trendsetters," as well as a mobile app to enable users to share styles while shopping on the go.
Why you'd use it: WingTipIt aims to make shopping—online and off—into a more social experience by enabling users to share tips, feedback, and finds in real-time.
"WingTipIt is really made to enable shoppers to get the feedback they need to make a purchase, wherever they are," Holtze told the Huffington Post. "It's made to help the on-the-go shopper and provide instantaneous feedback."
Holtze suggests the site also provides a way for friends and significant others to share gift and style ideas.
"Guys love that they can be voyeurs. They can see what's cool without having to ask," said Holtze, who jokes, "They don't like having to ask for directions--instead they can peruse a girl's closet and say, 'That's what she wants.'"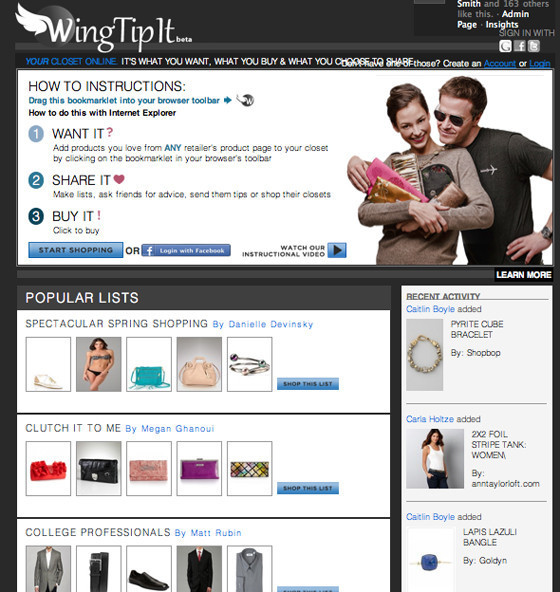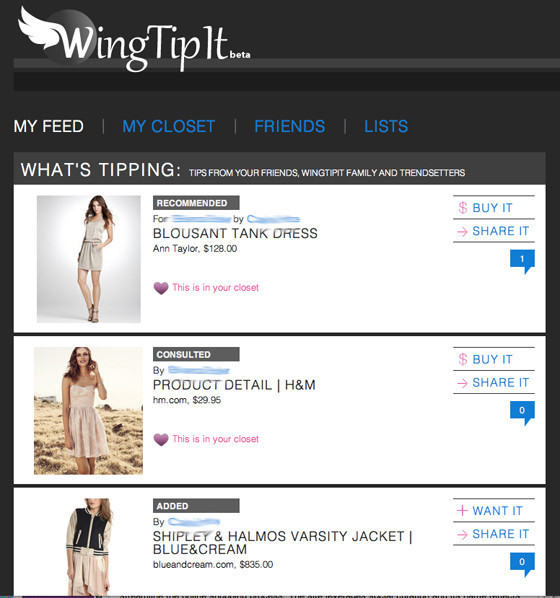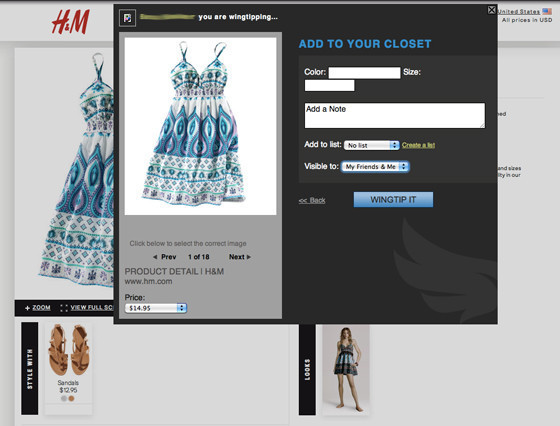 FOLLOW HUFFPOST