This post is part of a new series from HuffPostTech, Socialized, that will profile a different social startup--from apps to services to websites--every day. Want to be featured on the site? Email us about your startup, which should have a social media component and be less than two years old, at socialized@huffingtonpost.com.
Anyone who's ever tried to find an apartment in New York City probably still bears the scars: scavenging Craigslist to pick the gems from the scams, all while trying to coordinate with your fellow seekers, can be a trial of disorganization. Enter Nestio, a new website that wants to make your house hunt less painful.
What it is: Nestio is a one-stop shop for organizing potential apartments from different sites, exchanging comments with future roommates and more.
"The biggest pain is organizing everything that you have and making sense of it and making sense of the mess that is real estate," said Caren Maio, Nestio's CEO. "We saw Nestio as this ultimate tool to organize, collaborate and discover and achieve transparency to make better decisions."
How it works: Nestio is a hub for apartment hunters to collect their potential apartments and discuss them with those people involved in the search. With a bookmarklet, or by copy and pasting URLs, apartment listings from different sites can all be sent to Nestio. From there, users can edit their listings or add notes. If a listing is taken off the market, it will be accordingly deleted from Nestio. For now, Nestio is only available for New York City, though the company hopes to expand in time.
Soon, Nestio will add a feature where the collaborators can comment on each listing itself, rather than having to organize and collect their thoughts in separate locations.
"All my friends moving here would send me these long emails with 30 listings," said Maio, who spoke of the email chains, browser windows crammed with tabs, and folders stuffed with papers that served as organizational tools in the pre-Nestio age. "We let you add or collaborate in your account and seamlessly share all the listings you're looking at."
Nestio is also getting ready to premiere a feature it calls the comparison table: users will be able to view all their listings as a list, on a map, or in table that organizes them based on location, layout, or price.
Why you'd use it: Finding an apartment is stressful. Why not try to make it less stressful? Nestio offers the simple, but powerful, ability to simplify, organize and centralize all the major aspects of the apartment hunt. And, since it's online, users can access the data they've stored to the site while on the go, or make notes in the midst of seeing apartments.
Maio hopes that in the future, Nestio will be able to build a database of relevant user comments and experiences to make it even easier, and more reliable, to find a home.
"There's this ultimate idea of achieving transparency," she said. "The ultimate goal is that you have a listing and we're able to supplement that listing with the most relevant information--a quick, easy, relevant snapshot--news stories, what the neighborhood is like, violations in the buildings, bedbugs."
But for now, Nestio is a force that makes decision making simpler by providing users with the tools to organize what can be an extremely disorganized process.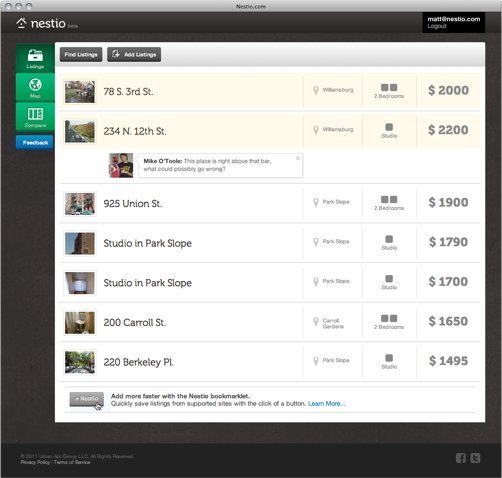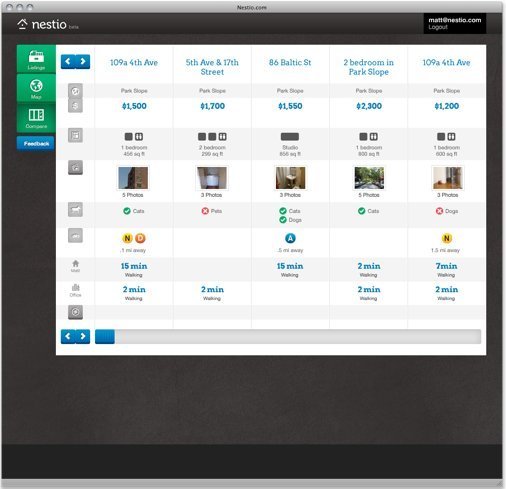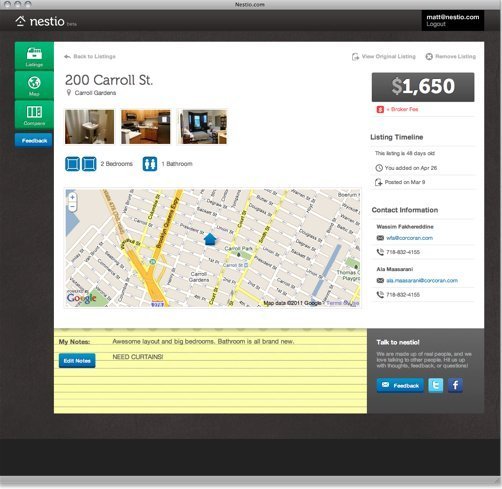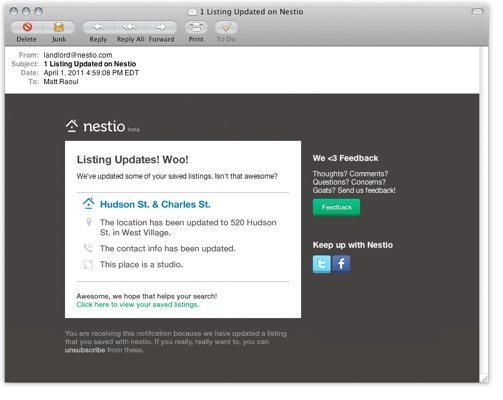 SUBSCRIBE TO & FOLLOW THE MORNING EMAIL
The Morning Email helps you start your workday with everything you need to know: breaking news, entertainment and a dash of fun. Learn more