Mummified Remains May Belong To Playboy Playmate Yvette Vickers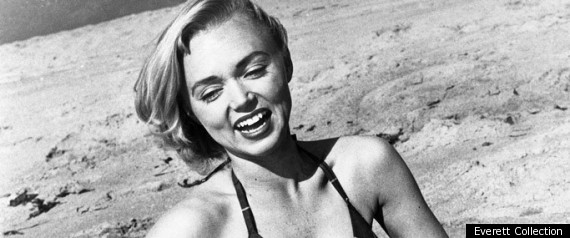 The Los Angeles County coroner's office is conducting an autopsy today on "mummified" human remains that were found in a dilapidated Beverly Hills home. The remains are believed to belong to Yvette Vickers, a former Playboy pinup and movie actress who has not been seen for nearly a year, authorities said.
"The remains could have been there for weeks or months. We're not sure at this point," a spokesman for the Los Angeles County Department of Coroner told Weird News.
Vickers neighbor, Susan Savage, made the gruesome discovery Wednesday. Savage told the Los Angeles Times she became concerned when she noticed the 82-year-old's mailbox was overflowing and the front door to her Benedict Canyon home was covered in cobwebs. Savage said she had not seen the reclusive actress since the summer and decided to investigate.
After crawling through a broken window and maneuvering through rooms that were cluttered with clothing and unopened fan mail, Savage found the unrecognizable mummified remains in an upstairs bedroom. The remains were reportedly on the floor next to a running electric heater.
"The skin is still intact but the body is like dried skin, leathery," the coroner's office spokesman said.
Positive identification could take several weeks to complete but officials say they do not suspect foul play.
According to the Internet Movie Database, Vickers was the daughter of jazz musicians Charles and Lola Vedder. The Missouri native was twice married and divorced and was most famous for her roles in the 1958 science fiction film "Attack of the 50 Foot Woman" and the 1959 horror flick "Attack of the Giant Leeches." Her last movie role was in the 1990 horror film "Evil Spirits."
In his book, "Stephen King: On Writing," the horror author cited Vickers as a favorite scream queen from his youth that would often cross his mind as he lay in bed at night.
"Never mind sweet; never mind uplifting; never mind Snow White and the Seven Goddam Dwarfs. At thirteen I wanted monsters that ate whole cities, radioactive corpses that came out of the ocean and ate surfers, and girls in black bras," King wrote.
Vickers was also well-known as a former Playboy Playmate. Her centerfold appeared in the July 1959 issue. The Playboy Mansion did not immediately return calls for comment.
"To the end she still got cards and letter from all over the world requesting photos and still wanting to be her friend," Savage told the Los Angeles Times. "We've all been crying about this. Nobody should be left alone like that."
WATCH: