Sex Crimes In New Orleans, Separate And Unequal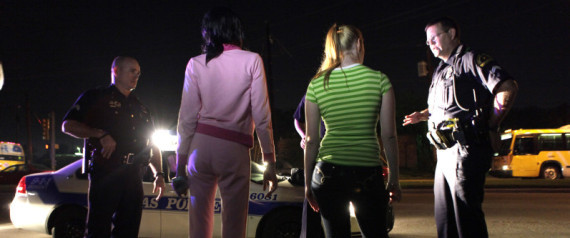 NEW ORLEANS -- In their neighborhoods, they are sometimes taunted with dirty looks and jeers. Their pictures hang on the walls of local community centers where their children and grandchildren play. And their names and addresses are listed in newspapers and mailed out on postcards to everyone in the neighborhood.
Landing a job or even finding a landlord willing to give them a place to stay is a challenge.
These women wear a scarlet letter -- rather, 11 letters -- spelled out on their driver's licenses in bright orange text: SEX OFFENDER.
They aren't child molesters or pedophiles. Most are poor, hard-luck black women in New Orleans who agreed to exchange oral or anal sex for money. In doing so they violated the latest version of Louisiana's 206-year-old Crime Against Nature law, which carries a maximum penalty of up to five years in prison and registration as a sex offender.
Opponents of the law say it is discriminatory and targets poor women and the gay and transgendered community who engage in what they call "survival sex." In March, the Center for Constitutional Rights filed a lawsuit on behalf of nine anonymous plaintiffs against the state, Gov. Bobby Jindal (R) and a host of state agencies, calling the law unconstitutional.
"There are a number of absurd things in the Louisiana laws, and this is one of the more absurd," said R. Judson Mitchell, a law professor at the law clinic at Loyola University in New Orleans. "There are crimes against nature happening at strip clubs on Bourbon Street every single night. The difference is we are dealing with women that didn't have a fancy strip club to go to."
Indeed, New Orleans has long been a historic bastion of sex and vice, synonymous with food, jazz and the lore of Storyville, the fabled red-light district that clinched the city's reputation for high-class prostitution more than a century ago. Any night along the city's seamy side streets and in hotels that dot the French Quarter, tourists and locals pay for a variety of sexual pleasures.
Most of the people involved in the sex trade in New Orleans -- and elsewhere, for that matter -- struggle with drug addiction, mental illness or past sexual trauma. Some are homeless and many more use their bodies to fuel their addictions or to feed themselves or their families.
And the statutes that define the solicitation of crimes against nature differ from the state's prostitution laws. Prostitution, a misdemeanor, includes the solicitation of vaginal sex only. A second conviction of solicitation of oral or anal sex, so-called crimes against nature, is a felony, which requires annual registration as a sex offender for anywhere from 10 years to life. It also requires inclusion on an online database of sexual predators.
In New Orleans, more than 40 percent of the people on the sex offender registry are on in it because of a crime against nature conviction, according to the Center for Constitutional Rights. Of that 40 percent, well over 80 percent are black women.
Louisiana is one of only a few states, if not the only one, that makes the solicitation of different sexual acts separate crimes. And it is the only state that requires people who sell their bodies to register as sex offenders, according to the Center for Constitutional Rights.
Until last summer, when the State Legislature amended the law, a first conviction of a crime against nature was a felony. Though the law was changed to make the first conviction a misdemeanor and the second a felony, it did not grandfather in those convicted of first time offenses before the law was changed.
State Sen. J.P. Morrell (D), who represents New Orleans, sponsored the bill that amended the law. He said he was hoping to get the solicitation of a crime against nature law completely abolished, putting those acts on par with prostitution.
But to get the bill passed he said he had to make concessions. Amending the existing law was progress nonetheless for a state legislature that he said "could be like a bunch of junior high school kids" unwilling to risk political capital over hot-button issues like sex offenders and prostitution.
"Having a sex offender label for the rest of your life because you offered to do two kinds of sex over a third kind just doesn't make any sense," Morrell said.
Deon Haywood, founder of Women with a Vision, an outreach group that deals with women on the margins that has led the fight against the crime against nature stigma and legislation, called the law an "assault on poor women."
"Who else are the police going to have access to? Poor women, black women and street-based sex workers," Haywood said. "Once convicted, they are treated the same way as if they were a pedophile or rapist."
But unlike sex by force or coercion, the solicitation of a crime against nature is in essence a "talking crime." All it takes is a verbal agreement, an offer.
"As a result of our law, not only have we punished them for the mere saying of words, we've punished them to an extent greater than if they actually performed the sex act in public," said Calvin Johnson, a retired Orleans Parish criminal district judge, who said that during a 17-year career he found the law unconstitutional on three separate instances only to be overruled by the state Supreme Court each time. "We've punished them to the extent of a felony and made them a sex offender. We have 'X'-ed them out of social benefits, out of jobs, out of neighborhoods, out of housing, which has an adverse effect on society."
"Not only have we punished that person for saying those words," he continued. "We've done the dumbest-ass things that any state could possibly do."
Subscribe to the HuffPost Hill newsletter!