Add John Cusack to the list of celebrities unhappy with the supposed ties binding Wall Street and Washington.
On Monday night, the actor, known for his roles in High Fidelity and Say Anything among others, used his personal Twitter account to take a couple shots at Goldman Sachs. (Hat tip to Business Insider.)
The investment bank has come under fire after a Senate report found that Goldman, the fifth-largest U.S. bank by assets, profited from betting against clients after misleading them into buying financial instruments the bank knew to be junk. On Tuesday, Goldman Sachs said it had received word that regulators could officially bring charges against the bank.
After Roget Ebert tweeted out an article on two U.S. Senators, Democrat Carl Levin and Republican Tom Coburn, formally asking the Justice Department and the Securities and Exchange Commission to investigate the investment bank for defrauding investors, Cusack replied, "wonder if its s sham.."
Only minutes later, in response to other tweets insinuating that Goldman Sachs has "friends" in Washington, Cusack replied "they basicaly ARE the gov at this point lets be honest..."
Cusack isn't the first A-lister to criticize the supposed ties between Washington and Wall Street. In March, Oscar-winner Matt Damon said in an interview that he believed President Obama had "rolled over to Wall Street completely."
John Cusack tweets at @johncusack. Below are the tweets: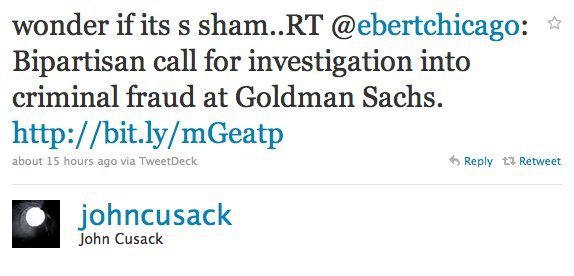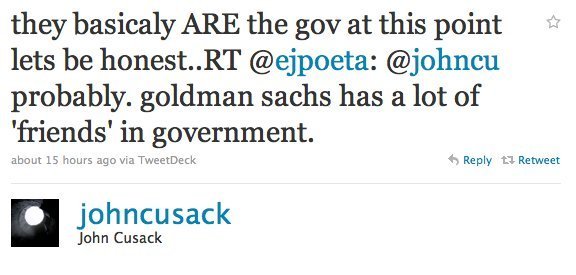 FOLLOW HUFFPOST