Champagne And Easy Money: The Web's Young Stars Confront Another Bubble
Peter Thiel looked on in awe. The billionaire early investor in Facebook and co-founder of PayPal, Thiel had spent countless hours in close quarters with young entrepreneurs. But he'd never traveled through the Caribbean on a 14-story cruise ship with 1,000 of them.
For three days in April just off the coast of Miami, the ship served as the venue for this year's Summit Series, an invite-only business conference that draws some of the world's most successful Internet startup founders. The yacht, the flowing champagne and the brand-name speakers were all part of Summit's three-year-old business model: convene an elite group of young entrepreneurs, add investors, philanthropists, alcohol and a few celebrities and see what happens.
This year's gathering was the largest Summit yet -- perhaps a sign of the times. For an elite class of tech entrepreneurs, including many who danced and drank on the cruise, there is no recession, no unemployment crisis. But, as waves of cash flow into Internet startups, there is talk of a sequel to the late '90s dot-com bubble.
"Markets are defined by greed and fear. We are in the greed mode right now," declared Fred Wilson, a top New York City venture capitalist, in a blog post late last month. "This is a time to raise money and sock it away for a rainy day."
Startups are heeding Wilson's advice. Thus far, 2011 has been the venture capital industry's best annual fundraising start since 2001, as deep-pocketed backers aimed funds at hot late-stage technology companies, such as Facebook, Twitter and Zynga. Facebook's value rose 58 percent during the first quarter to $65 billion, according to research firm Nyppex, while Zynga's climbed 80 percent to $8 billion. As U.S. venture capitalists raised $7 billion during the first quarter of 2011, Internet firms snatched up $2.3 billion in funds, according to research firm CB insights. Those totals were up 76 percent and 46 percent, respectively, from the first quarter of 2010.
Across the globe, more than $5 billion flowed into young web companies in the first four months of 2011, Reuters reported.
The result has been something of a mad dash to raise startup funds -- any funds. At the Summit Series, attendees could hardly throw a business card without hitting the founder of an Internet company that had raised millions in recent months.
Take Travis Kalanick, a Summit-goer who founded Uber, an on-demand car service that uses mobile apps. In February, less than eight months after its launch, Uber rounded up nearly $12 million from investors at a $60 million valuation. Kalanick said Uber has more than 10 investors with a long line of suitors eager to snap up shares.
Aaron Batalion, co-founder of the daily deals site LivingSocial, also had something to toast at this year's Summit. Four days before the conference, and less than four months after landing a $175 million investment, Living Social raised $400 million at a whopping $3 billion dollar valuation.
The cash rolling in at many young Internet companies has been a welcome, if frothy, development: In 2009, venture capital investments fell to a 12-year low, according to a report by National Venture Capital Association and PricewaterhouseCoopers.
"During the downturn, good companies just couldn't get funding," said John Frankel, a partner at ff Venture Capital. "But the pendulum has quickly swung back."
In 2010, venture capital investments rose for the first time in three years, to $21.8 billion. Frankel and other investors say that in recent months they've seen valuations for early-stage web startups jump to two or three times the level of the previous three years.
"You've got a whole group of investors who missed out on Groupon and Facebook and really don't want to miss out on the next big deal," Ben Lerer, founder of the online men's lifestyle network Thrillist and a partner at Lerer Ventures, told an audience at Bloomberg's Empowered Entrepreneur conference in April. "There's a lot of money out there," Lerer added. (Lerer is the son of Ken Lerer, a cofounder of The Huffington Post.)
Wall Street, too, has raced to get in on the flood of attention on Internet startups. Rather than waiting for high-flying tech companies like Facebook, Zynga or Twitter to go public, banks are piling into the private secondary markets in an attempt to cash in.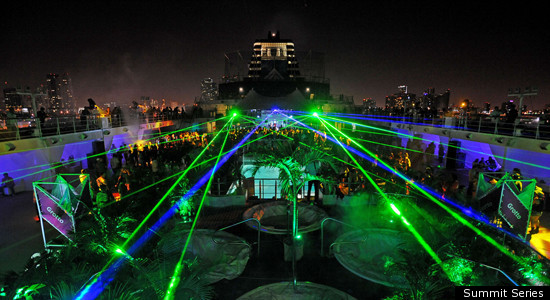 (Aboard the Summit Series' 14-story yacht)
In January, Goldman Sachs invested $450 million in Facebook in a deal that valued the social network at $50 billion. Last week, Reuters reported that a group of Facebook shareholders is trying to offload $1 billion worth of shares on the private secondary market. The sale would value the social-networking giant at more than $70 billion.
In February, JPMorgan Chase raised $1.22 billion for its Digital Growth Fund to invest exclusively in later-stage tech companies. The bank quickly purchased a 10 percent stake in Twitter, valuing the company at $4.5 billion.
Companies that are selling stock through secondary markets are getting the economic benefits of going public without increasing disclosure, said Jim Anderson, the head of Silicon Valley Bank's software, Internet and e-commerce division. "Valuations are just indicators," Anderson added. For many web companies, he warned, "there's real uncertainty about the revenue model."
The red-hot market for private company shares has drawn the attention of the Securities and Exchange Commission and led critics to call it a "shadow market" where investors are being kept in the dark about the companies they are buying into. Even as employees or VCs use secondary markets like SecondMarket or SharesPost to sell their stock, the companies themselves are not required by law to disclose detailed financial information.
Historically, employees and early investors at successful tech startups were left holding valuable stock they couldn't unload until an IPO or an acquisition. But secondary markets, their proponents say, free up capital by allowing employees and early investors at private tech companies to unload their stock before a public offering.
At least some of this new cash is circulating back into the startup world. Armed with the expertise, money and interest, tech entrepreneurs-turned-investors are assisting and financing the current generation of startup founders.
Some do it because investing in startups is more appealing than leaving cash in the bank or putting it in the stock market; some do it simply to stay plugged into the startup world.
"You now have a wave of entrepreneurs who have founded companies, sold their stock, and are using the money to either start another company or reinvest in other startups," said Frankel, the venture capitalist.
THE SUMMIT COLLECTIVE
"The Roots are about to take center stage for their final performance of the Summit Series," blared a voice over the ship's intercom.
Moments later, crowds poured out onto the pool deck as a neon laser-light show pulsated across the boat's stern. Three days of hyperactive networking mixed with champagne, extreme ocean sports and TED-style speeches by industry titans like Richard Branson and Google executive Jared Cohen had worn attendees down. But the celebration continued on through the night. Not until 6 a.m., when boat security ordered the crowds to disperse, did attendees finally return to their rooms.
Summit's final morning wasn't the only time the ship's security intervened in the festivities. Earlier in the trip, four tipsy attendees were detained after jumping off the boat into the ocean. (The jump, a premeditated dare, did not result in any injuries.)
Subscribe to the HuffPost Money newsletter!