Burson-Marsteller, the public relations firm that Facebook hired to spread bad press about Google to media organizations, was caught yesterday deleting negative posts from its own Facebook page, Wired reports.
Facebook user Jessica Murray posted a link to Dan Lyon's report from The Daily Beast, which Burson-Marsteller subsequently removed. After Wired posted the story, a spokesperson from the company "acknowledged the deletion."
"That was wrong," a Burson representative told Wired.com in a call minutes after this story went live. "We'll be reaching out to Jessica, and we'll let her put her post back," the representative said, adding that the company's Facebook page has received "a lot of profanity."
According to its Facebook page, Burson-Marsteller recently changed its "Company Overview" in the "Info" section. It now includes a link to the company's "Facebook Comment and Posting Policy."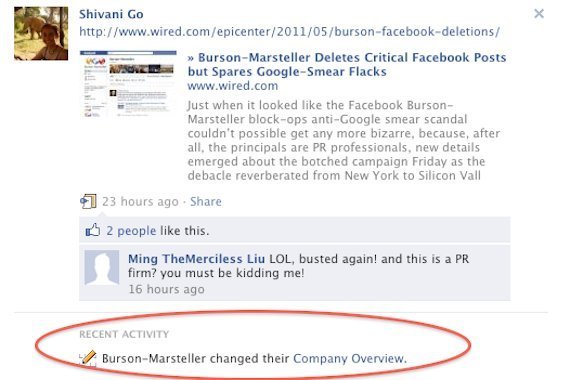 Paul Cordasco, Global Director of Media Relations for Burson-Marsteller, confirmed to The Huffington Post on Saturday that the company added the link following Wired's report. "We decided we needed to come up with a transparent policy, which is what we did," Cordasco said. "We've been getting a lot of very negative posts. Some of them I would categorize as borderline hate speech and profanity."
The five most recent comments left on Burson-Marsteller's Facebook page on Saturday afternoon regarded the company's attempt to plant stories about Google on Facebook's behalf.
For more coverage, read Amy Lee's "Google Smear Campaign Leaves Facebook Looking Desperate."
WATCH: