Syria Mass Grave Denial As Villagers Discover Bodies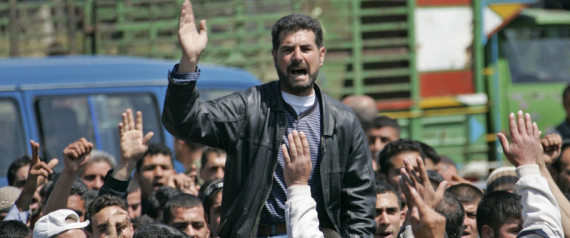 AMMAN (Reuters) - Villagers near Syria's southern city of Deraa have found two separate graves containing up to 26 bodies, residents said on Tuesday, and activists said the army continued a military assault on the border town of Tel Kelakh.
Syria denied the existence of any mass grave near Deraa, saying such reports were part of "campaign of incitement" against authorities tackling a two-month wave of protests against President Bashar al-Assad.
But state television quoted an Interior Ministry source saying that five bodies had been found near Deraa, the city where unrest first erupted in March and which troops and tanks stormed last month. It said officials were investigating.
Four residents told Reuters that villagers had contacted the local civil defense after finding two mounds of earth in wheatfields just outside Deraa's old city district. Under the mounds were 22 to 26 decomposed corpses, they said.
Their reports could not be verified because authorities have barred most international media from operating in Syria.
Since Assad sent tanks into Deraa three weeks ago to crush dissent, the army has moved into several other protest centers in the south of the country, around the capital Damascus and on the Mediterranean coast.
Syrian rights groups say at least 700 civilians have been killed by security forces and the United States has condemned the crackdown as "barbaric."
Washington and the European Union have imposed sanctions on senior Syrian officials, though they have yet to target Assad.
Syria has blamed most of the violence on armed groups backed by Islamists and outside powers, who they say have killed more than 120 soldiers and police.
DEAD "STREWN IN STREET"
In the latest crackdown, soldiers moved on Saturday into the town of Tel Kelakh, close to Lebanon's northern border.
Human rights campaigners said scores of people had been arrested since Monday and that Assad's forces were firing at several neighborhoods in the city of 30,000 people.
Citing witnesses, the Local Coordination Committees, a main activists' protest group, said several people were killed in Tuesday's offensive, adding to 12 civilians already killed by army shelling, shooting and sniper fire in the last three days.
A Reuters correspondent on the Lebanese side of the border heard shooting and could see smoke rising from the village of Arida, which lies between Tel Kelakh and the border.
"They destroyed the houses, they cut electricity and water. The wounded are dying in our hands and the dead are strewn on the streets," a Tel Kelakh resident who would only call herself Umm Ahmed told Reuters by telephone.
She said she was hiding in a basement with seven families.
State news agency SANA said security forces clashed with "wanted armed terrorist members" in Tel Kelakh on Monday, killing several and capturing others, and seizing weapons, ammunition and military uniform. Fifteen members of the security forces were wounded, it quoted a military source as saying.
In her stone house just a few meters inside Lebanese land, Umm Fatima said she had sent her nine children to the nearby village of Wadi Khaled for safety.
"All night and day, there's gunfire. I'm so scared it will reach our homes -- I don't dare leave my home," she said.
The Syrian Observatory for Human Rights said there were also mass arrests in the cities of Homs, Deir al-Zor and Latakia, which security forces had "robbed of normality."
Assad, who trained as an ophthalmologist, has tried a mixture of reform and repression to stem the protests, inspired by uprisings across the Arab world.
Authorities said he intends to launch national dialogue talks, a gesture rejected by opposition leaders and the main activists' protest group who say first security forces must stop shooting protesters and political prisoners must be freed.
SANA news agency said Assad met a delegation from Deraa on Monday and discussed implementing reforms.
The Facebook page Syria Revolution 2011 called for a general strike across Syria on Wednesday.
"Let us turn this Wednesday into a Friday," it said, referring to the day when most demonstrations take place after weekly Muslim prayers. It called for "mass protests ...no schools (open), no universities, no shops or restaurants, not even taxis."
(Additional reporting by Yara Bayoumy in Wadi Khaled, Lebanon, and Khaled Yacoub Oweis in Amman; Writing by Dominic Evans; Editing by Diana Abdallah)
Copyright 2011 Thomson Reuters. Click for Restrictions.