Keystone XL Suit: Environmental Groups Target Hillary Clinton Over Oil Pipeline Documents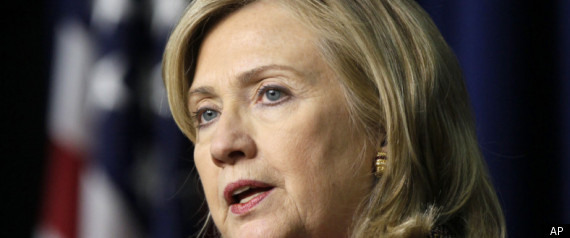 A coalition of environmental and ethics groups sued Secretary of State Hillary Clinton and the U.S. State Department on Wednesday over documents relating to a contentious oil pipeline that would link Canada's oil sands to oil refineries in the southern United States.
The groups suspect that the documents, sought through a Freedom of Information Act request filed in December, contain communications between Clinton and a lobbyist representing TransCanada, the company behind the proposed pipeline, known as the Keystone XL project.
The lobbyist in question, Paul Elliott, formerly served as a deputy campaign director for Clinton's failed presidential bid in 2008. The State Department is currently considering whether to grant TransCanada a permit for the Keystone pipeline, without which the project cannot go forward.
Environmental groups staunchly oppose the project, which would service and support the tar sands of Alberta, a highly destructive and polluting fuel source where a tarry oil is squeezed from sand and rock. The materials are strip mined from vast open pits at great expense, with substantial investment of both water and energy and copious atmospheric emissions.
The department expects to render a decision by the end of 2011.
In early January, the State Department initially refused to honor the FOIA request, suggesting that too little information had been provided to isolate the documents. The assertion immediately raised hackles with critics.
The environmental groups appealed, and in a letter dated February 1, the State Department indicated that it accepted the original document request.
Persistent silence on the matter since then prompted the organizations, which include Friends of the Earth, the Center for International Environmental Law and Corporate Ethics International, to file Wednesday's suit.
The groups argue any communication between Clinton and Elliott presents a potential conflict as the State Department considers permitting for the Keystone pipeline. They note, for example, that Clinton has repeatedly expressed a public inclination to approve the project, despite reservations from farmers and ranchers in the pipeline's path and even after the Environmental Protection Agency labeled a draft environmental impact statement for the project inadequate.
"Clearly, TransCanada hired Mr. Elliott to take advantage of his previous service to Hillary Clinton," said Kenny Bruno of Corporate Ethics International, in a statement issued Wednesday afternoon. "We think the public has a right to know in what ways TransCanada and Mr. Elliott have attempted to influence Secretary Clinton's view of this controversial project."