Before last April, Alex Stupak was best known as the incredibly inventive pastry chef at wd-50, New York's molecular gastronomy standout and former pastry chef of Chicago's famed Alinea.
But these days, the Massachusetts native has traded in liquid nitrogen for pork, lamb and chipotle shrimp -- at Empellón, his new Mexican joint in the West Village. When we caught up with Stupak, the first question we just had to ask was...
Why?
Departure and rebirth. I had hit a wall with dessert and creativity, and needed to move in a new direction. I've always wanted my own restaurant, and knew I didn't want it to be an extrapolation on where I've come from. I answered a very simple question: 'What do I love eating most?'
But cooking what you love and eating what you love are very different. Are you able to use any of your pastry chef knowledge?
No. Mexico has its own techniques, ingredients and logic. But I'm dedicated to understanding it. And being a pastry chef for a restaurant requires about a 100th of the responsibility owning a restaurant does. Ultimately, Mexican cuisine has got me. I'm fascinated, I'm hooked and the amount of inspiration it has to offer me is inexhaustible.
What was the inspiration behind the name of the restaurant?
'Empellón' means to push, shove or jostle. For me, it means to push myself in a new direction and beyond my limits no matter how uncomfortable that becomes.
And have you experienced discomfort yet?
Everyday. I'm not stupid, and I knew what I was getting into. Because of my background, I knew I was going to get judged very harshly, and I am. And that's fine. I'm not happy with my restaurant yet. I'm not happy with the food yet. Some people are really enjoying it, and some people hate it. And at the end of the day, I started this restaurant not because I thought tacos are the crown jewel of Mexican cuisine. It's actually the opposite. I think that I'm trying to approach this cuisine with a lot of respect and humility, and I'm starting at the bottom. But I want this to be considered a great taqueria. I want our tacos and our ceviche to be deemed as great by everyone who walks in the door. I know that's an impossible goal, but it's still my goal.
Can you point to one specific challenge you've faced?
There are sociological issues when you start cooking a cuisine like this that I guess I was kind of aware of, but never really thought of. One being that you almost have to price things apologetically, and I have a major problem with it. Like when people come in here and tell me it's pricey, that really bothers me. We're using great ingredients and artisanal masa that's made here in New York, but it seems like once you put something on a tortilla it becomes worthless, and that really pisses me off.
Well, let's get to the tacos. What's your favorite kind on the menu?
The beer-braised tongue tacos with arbol chile salsa and potatoes are probably my favorite. Why? Because they taste awesome.
Besides Empellón, of course, what's your favorite Mexican restaurant in New York?
Hecho en Dumbo. All of their work is spot on. It's a really small and efficient kitchen, and the amount and quality of food they put out is pretty fascinating. The diversity in their menu is also commendable.
Switching gears a bit, what's something most people would be surprised to know about you?
I'm an animal lover, and we have a cat named Lee, and we love our cat so much that we actually had a painting commissioned of him, and it's in our dining room. It's just a painting of a black cat, and nobody knows it's ours.
Empellón, 230 West 4th Street (212-367-0999 or empellon.com)
If you're not in NYC, whip up Stupak's carnitas at home.
Chef Stupak's Carnitas Recipe: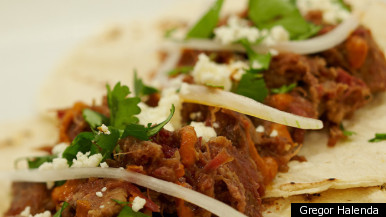 "We define carnitas as pork that has been cooked in lard first at a low temperature and then a higher temperature to crisp it up," he says. "We render our own lard at Empellón because we think it has a deeper roasted flavor. Carnitas are best enjoyed with some cilantro, onion, salsa, tortillas and plenty of cold beer."
Ingredients:
¼ cup kosher salt
¼ cup sugar
1 tsp Mexican oregano
6 garlic cloves
2 lbs pork shoulder or ribs
2 lbs lard
Method:
Combine salt, sugar, Mexican oregano and garlic cloves in a food processor. Process the mixture to a paste and rub it all over pork. Cure the pork in a refrigerator for 6 hours. Rinse pork and pat it dry with paper towels. Gently warm lard in a Dutch oven, then add pork and warm. Immediately take pork from Dutch oven and put in a 200-degree oven for 2 hours. Remove the pork and put it back in the Dutch oven on a burner at high heat. Fry the pork in the fat until golden brown. Remove the pork from the lard and drain on a plate lined with paper towels. Season the pork with salt and sprinkle with fresh lime juice.