BUFFALO, N.Y. –- Today's tight race in New York's 26th Congressional District has become a referendum on the Republican plan to transform Medicare.
SCROLL DOWN FOR LIVE UPDATES
The western New York district is among the most conservative in the state.
Nevertheless, the latest poll shows Democrat Kathy Hochul with a slight lead over Republican Jane Corwin in the race to succeed Republican Chris Lee. Lee resigned in February after shirtless photos surfaced that he'd sent to a woman on Craigslist.
Corwin was the early favorite but has seen her lead shrink after expressing support for a proposal to recast the government's health plan for seniors as a voucher program.
Siena Poll Director Steve Greenberg says voters cite jobs, Medicare and the deficit as top issues.
The poll shows Tea Party candidate Jack Davis a distant third.
Davis' candidacy has further complicated matters for Republicans in a district that has many Tea Party supporters. Local GOP leaders tried to make hay of an eyebrow-raising encounter between Davis and a videographer Davis appeared to shove after the videographer taunted him for refusing to appear in a debate with Hochul and Corwin. The GOP tried to use the video to paint Davis as a bully.
But it backfired when the videographer turned out to be Corwin's chief of staff.
Jonathan Chait at The New Republic writes:
The race has centered almost entirely around the exact theme that Democrats plan to employ in the next election cycle. All this suggests the party has gotten deep traction on the issue, and that the public can react against the policies of the House GOP. The political landscape that produced the Republican sweep of 2010 is gone. Just what replaces it remains to be seen.
The race has drawn attention and more than $2 million from both national parties and several independent groups. Both Ryan and New Jersey Republican Gov. Chris Christie have endorsed Corwin, while former President Bill Clinton recorded a phone call for Hochul and New York's popular Democratic Gov. Andrew Cuomo released an ad supporting her.
05/25/2011 12:22 AM EDT
Getting Out The Vote
HuffPost's Mark Blumenthal:
As Bloomberg's Greg Giroux points out via Twitter, the Hochul victory resulted in part from a Democratic turnout advantage compared to prior elections:
Erie Co, where Hochul is ahead 53-39% & 5,400 votes, cast 37-38% of all #ny26 votes. In '08 prez, '10Gov & '10Sen it was 33-34%
We can add one more: Erie County was also 33.6 percent of the votes cast in the 2006 congressional elections, a surge year for Democrats.
Similarly, Niagara County, which favored Hochul by eight points (47 percent to 39 percent) saw its percentage of the total votes cast rise by a full point (to 17.6 percent from 16.6 percent in the last three U.S. House elections).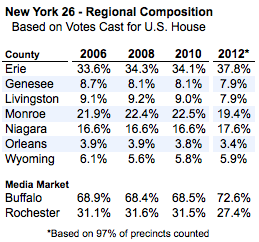 05/24/2011 11:08 PM EDT
Medicare Indeed A Factor -- At Least For Some
"What went wrong? Representative Peter King (R-NY) told the New York Times. "We definitely have to determine the extent to which the Medicare issue hurt us."
There are no official exit polls for the election, but reports are coming in that Medicare was indeed a big issue for votes. As the NYT reports:
"I have almost always voted the party line," said Gloria Bolender, a Republican from Clarence who is caring for her 80-year-old mother. "This is the second time in my life I've voted against my party."

Pat Gillick, a Republican from East Amherst, who also cast a ballot for Ms. Hochul, said, "The privatization of Medicare scares me."
"I won't dispute their contention that Medicare helped them. The polling shows it did," a Republican operative tells Time. "We have to find a way to handle that better."
05/24/2011 10:37 PM EDT
More Reactions
DCCC chair Rep. Steve Israel (D-NY):
"Today, the Republican plan to end Medicare cost Republicans $3.4 million and a seat in Congress. And this is only the first seat."
Sen. Chuck Schumer (D-NY):
"There are two reasons we won tonight. Kathy Hochul is a great candidate and a Western New Yorker through and through. And New Yorkers of all political persuasions do not want to destroy Medicare. This election was a strong referendum on both."
Democratic Party of Wisconsin Chair Mike Tate:
"The shocking election results tonight show it is the beginning of the end for Paul Ryan's immoral budget. The New York vote turned on an immoral plan to end Medicare and Medicaid hatched on Wall Street and in Washington by someone who is supposed to be representing Wisconsin. Its rejection tonight shows how vulnerable every single Republican in Wisconsin is, but especially Paul Ryan himself, for siding against Wisconsin's working families."
05/24/2011 10:36 PM EDT
Obama Congratulates Hochul
The president makes no mention of Medicare -- but he does mention deficit reduction:
I want to extend my congratulations to Congresswoman-elect Kathy Hochul for her victory in New York's 26th Congressional District. Kathy and I both believe that we need to create jobs, grow our economy, and reduce the deficit in order to outcompete other nations and win the future. Kathy has shown, through her victory and throughout her career, that she will fight for the families and businesses in western New York, and I look forward to working with her when she gets to Washington.
05/24/2011 10:27 PM EDT
NRCC Responds
National Republican Congressional Committee Chairman Pete Sessions (R-TX) released the following statement regarding the special election in New York's 26th Congressional District:
"Republican Jane Corwin ran a hard-fought campaign against two well-funded Democrats, including one masquerading under the Tea Party name. Obviously, each side would rather win a special election than lose, but to predict the future based on the results of this unusual race is naive and risky. History shows one important fact: the results of competitive special elections from Hawaii to New York are poor indicators of broader trends or future general election outcomes. If special elections were an early warning system, they sure failed to alert the Democrats of the political tsunami that flooded their ranks in 2010."
05/24/2011 10:23 PM EDT
DNC On Hochul Victory
DNC Chair Debbie Wasserman Schultz released the following statement:
"I wholeheartedly congratulate Congresswoman-Elect Hochul and her grassroots supporters for their hard work and dedication despite being outspent by a 2-to-1 margin. Tonight's election result is not just a victory for Congresswoman-Elect Kathy Hochul, it's a victory for the residents of Western New York and for Americans who believe that our elected leaders should fight to protect Medicare and ensure that our government works for our seniors, working families and young people. Kathy's Republican opponent, and those who spent a small fortune on her behalf in a solidly Republican district, found out the hard way that their extreme plans to abolish Medicare and slash Medicaid and investments in health care, education, innovation and job creation are wrongheaded and unpopular even in a district that should have been a cakewalk for the Republican candidate."Just a few months ago, former Republican Congressman Lee won the 26th district with 74 percent of the vote –- but since that time Republicans have voted to end Medicare and place a whole host of additional burdens on seniors, young people and working families while preserving tax breaks for millionaires, billionaires and big oil and they have been on the wrong side of public sentiment every since. "Tonight's result has far-reaching consequences beyond New York. It demonstrates that Republicans and Independent voters, along with Democrats, will reject extreme policies like ending Medicare that even Newt Gingrich called radical. With this election in the rear-view mirror, it is my hope that Republicans will accept the message being sent by voters in this race, in the polls and at town hall meetings across the country and work with Democrats to get our fiscal house in order while protecting Medicare and other initiatives vital to our economic recovery."
05/24/2011 10:20 PM EDT
Why Hochul Won
HuffPost's Mark Blumenthal:
The reason for Kathy Hochul's victory tonight is evident in the county-by-county results reported so far. Her share of the vote is ahead of what then-Democrat Davis received in 2006 everywhere in the District except Niagara County, and there Hochul is only two points lower, but gaining.
Hochul's vote share is slightly behind what Kristen Gillibrand received in her Senate race in 2010, so Hochul is likely to receive somewhere between 45 and 50 percent of the vote when all precincts are counted. That total will be enough to win, given that Tea Party-line candidate Jack Davis is getting 8 percent of the vote District-wide.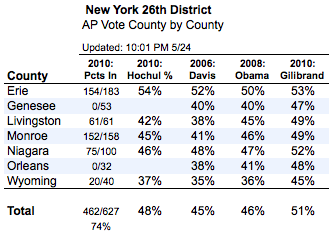 05/24/2011 10:02 PM EDT
AP Calls It For Hochul
| | |
| --- | --- |
| | @ bfouhy : AP calls race for Hochul. #NY26 |
05/24/2011 9:59 PM EDT
What About Jack Davis?
| | |
| --- | --- |
| | @ FixAaron : Corwin trails by 5 and Davis is getting 8 percent. If those numbers remain so close, it's hard to attribute Corwin's loss solely to Davis. |
05/24/2011 9:51 PM EDT
HuffPost's Mark Blumenthal reports:
The table below shows the Associated Press vote count by County as of about 9:38 p.m. eastern time. All of the reported precincts so are from four counties, including the two most Democratic, Erie and Niagara.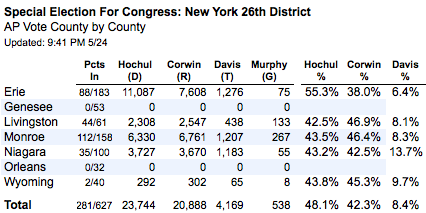 We should not assume that precincts within any county are created equal -- they are not -- but for what it's worth, Hochul's 55% of the vote so far in Erie County is slightly better than what then-Democrat Davis received in 2006 (52% when he received 45% district-wide) and what Kirsten Gillibrand's Senate candidacy received in the County in 2010 (53%).
Hochul's number are also better than those received by Davis in 2006 in the other counties reporting so far except for Democratic Niagara, where they are slightly worse.
SUBSCRIBE AND FOLLOW
Get top stories and blog posts emailed to me each day. Newsletters may offer personalized content or advertisements.
Learn more