John Boehner Fights Foreclosure Relief As Housing Crisis Ravages His District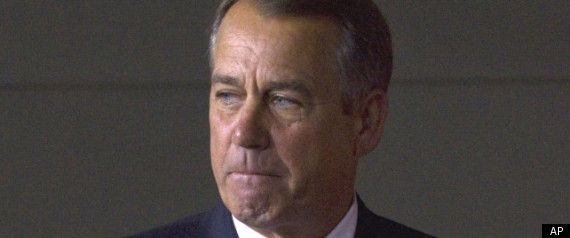 Regina Moore has lived in her Hamilton, Ohio, home, in the heart of House Speaker John Boehner's district, for 50 years.
Her husband passed away in 2005, and in 2008 she took out a new $72,000 mortgage so she could afford to pay her medical bills. She had a steady job, having worked at the Champion Printing Company in Cincinnati for more than two decades. Her monthly payments on her $86,000 home amounted to about $450.
It was a simple mortgage for a simple home -- no exploding payments or swimming pools.
But last year, at the age of 70, Regina lost her job, and her $1100 a month Social Security payment wasn't enough to make ends meet. She called her son, Jeff, who works three part-time jobs, to ask for help.
"She had a mortgage on her home and just couldn't afford to pay the bills anymore," Jeff said. "She went through a period where she was embarrassed. She didn't want to say that she couldn't get a job or couldn't pay her mortgage. And finally it got to a point where she was facing foreclosure and called me."
While Jeff, a local housing group and a lender ultimately helped Regina modify her mortgage so she could stay in her home, many of her fellow Ohioans haven't been so fortunate.
Hamilton, about 45 minutes outside of Cincinnati, has one of the highest foreclosure rates in Butler County. And Butler County has been a foreclosure hotspot for years. Along with the Cleveland and Columbus areas, Cincinnati and its surroundings have seen the predatory subprime binge come and go and now watch as the crumbling job market pushes more and more homeowners into financial ruin.
In February, Butler County featured the highest foreclosure rate of any county in Ohio, according to RealtyTrac data. In March, it had the second-highest rate.
"In the beginning, we really saw more loans that we thought had predatory features," said Sister Barbara Busch, a Catholic social justice worker who serves as Executive Director of a Cincinnati-based homeowner advocacy group called Working In Neighborhoods that does extensive work in Butler County. "When we first started doing this, I would say 70 percent of the people who came through for counseling were in the subprime market. But in 2008 and 2009, it started slanting toward option-ARMs, and then in 2010 we saw a large number of unemployed, where the loans themselves weren't so bad, but people had just lost their jobs."
Others who work with struggling homeowners say the same thing: The initial wave of mortgage problems was due to people unable to manage exotic or high-risk mortgages, but the current problem simply involves people losing jobs in a weak economy who can't pay their bills.
"In certain communities in Butler County there was a fair amount of predatory lending," said Stephanie Moes, an attorney with the Legal Aid Society of Southwest Ohio. "But most recently, it's homeowners who are still struggling with the economic downturn. These are homeowners who have done everything right in the sense that they were careful about the kind of mortgage they got, they didn't buy a property they couldn't afford, but now they're facing long-term unemployment."
Subscribe to the HuffPost Hill newsletter!