• More than three-quarters of U.S. television news guests discussing Environmental Protection Agency regulation of greenhouse gases between December 2009 and April 2011 opposed such regulation, according to a analysis by Media Matters.
Guests included lawmakers, members of advocacy groups, business leaders, pundits and others. Only one of the featured guests, the Cato Institute's Patrick Michaels, had a background in climate science -- and, as Media Matters notes, Michaels also estimated that about 40 percent of his funding comes from the petroleum industry.
The breakdown of TV analyst perspectives is starkly at odds with public opinion polls, which have shown 71 percent of respondents said they support continued funding of the EPA to "enforce regulation on greenhouse gases and other environmental issues.'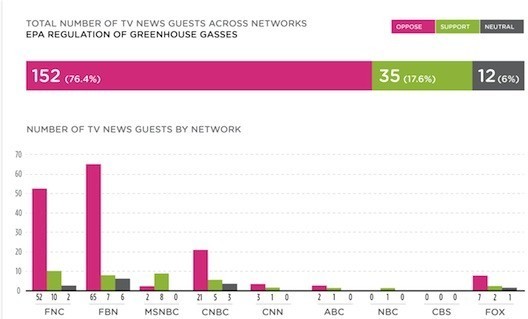 • For some useful perspective on government oversight of Wall Street, JPMorgan Chase's litigation reserves of $4 billion -- the money the bank is saving so it can fight or settle lawsuits -- is four times the size of what the Securities and Exchange Commission has to regulate the entire securities industry. Bank of America's marketing expenses in the last three months of 2010 were about half the SEC's budget. (Forbes)
• A grassroots movement built by the nation's biggest business lobby would seem to be the definition of astroturfing, a term used to describe a political or corporate agenda disguised as an independent, bottom-up movement.
But that didn't stop U.S. Chamber of Commerce president Tom Donohue from sending out a seven-page memo announcing the latest chapter in its mission to create a grassroots movement for reform and relief of government regulation -- he's enlisted former Democratic Sen. Evan Bayh (Ind.) and ex-White House chief of staff Andy Card for a "road show" to "promote a bipartisan blitz against what it deems excessive and costly government regulations," reports the Center for Public Integrity.
• The revolving door between the federal government and Wall Street is highlighted by the Project on Government Oversight. The most recent example: SEC nominee Daniel Gallagher, who currently works at law firm WilmerHale, and worked for the SEC before he held that job.
• Despite the fact that for two decades the Internet has allowed federal agencies to provide reams of non-classified information to the public -- bypassing the costly and cumbersome Freedom of Information Act process -- not every agency has taken advantage of the opportunity. The U.S. Department of Agriculture recently jumped aboard when its Animal and Plant Health Inspection Service made the service's data on people and companies it licenses available in a free online searchable database.
SUBSCRIBE TO & FOLLOW THE MORNING EMAIL
The Morning Email helps you start your workday with everything you need to know: breaking news, entertainment and a dash of fun. Learn more