Twitter will bring this feature to its own website. Twitter announced in a blog post that Twitter.com will be getting an automatic link shortening feature that will enable users to slim down their links just by copying and pasting a link into the website's tweet box.
Given the 140 character limit on Twitter, many users prefer to reduce the length of the URLs they share, which gives them more room for other content. Twitter's shortening service will slim down links to 19 characters.
Not only does the new tool make tweeting more convenient, but Twitter notes that the feature aims to make Twitter more secure as well by showing part of the original URL in the shortened version (See screenshots below).
[S]ince we show a shortened version of the original link, people will know which site the link points to. This service also increases security. If users click links that are reported as malicious, we direct them to a page that warns them.
In the past, scams have spread on Twitter via shortened links, which can effectively disguise the nature of the website a user is being directed to.
The new tool will not offer analytics, however, so users will have to use other URL shortening services, like bit.ly, for information on how many times and when their links were clicked. If you want analytics for your links, "you can continue to use your favorite third-party link shortening services," says Twitter.
The feature is not yet available to all Twitterers.
The service is being rolled out by Twitter to a small percentage of users to start with. After 13 characters of a URL are entered, a message appears to let the user know that the link will be shortened. Even after the message character limit is reached, users can continue to add text to the URL, Twitter said.

Once the message is posted, it will be assigned a t.co link ID, but the link will appear as a shortened version of the original URL, so that people who see the message will know the site they are going to.
Learn more on Twitter's Support page.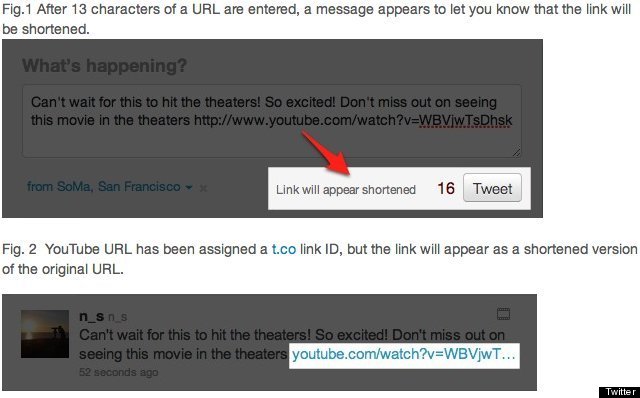 SUBSCRIBE AND FOLLOW
Get top stories and blog posts emailed to me each day. Newsletters may offer personalized content or advertisements.
Learn more