Amber Hilberling Accused Of Pushing Husband Out 25th-Floor Window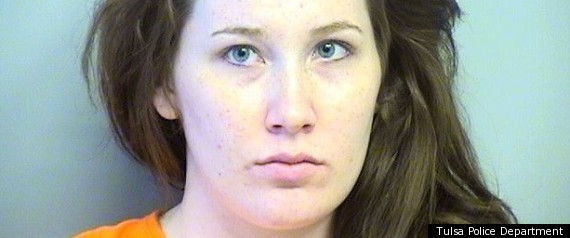 An Oklahoma woman accused of pushing her husband out their 25th-floor-apartment window to his death remains free on a $250,000 bond as police continue to investigate the case.
Joshua Hilberling, 23, of Tulsa, died Tuesday afternoon after falling from the 25th floor of the University Club Tower high-rise apartment building in the 1700 block of South Carson Avenue. Hilberling died instantly when he landed on the top level of an eight-story parking garage, police said.
After questioning Hilberling's wife, Amber Hilberling, 19, police charged her with first-degree murder and transported her to Tulsa County Jail.
"They were involved in a disagreement and argument," Tulsa police officer Leland Ashley told The Huffington Post. "During the course of this argument, she pushed him out of the window."
Ashley, citing the "ongoing investigation," declined to comment on what, if anything, Hilberling told police. But according to Hilberling's arrest report, she "made statements to witnesses that she pushed the victim and that caused him to fall through the window," the report states.
Hilberling, who according to her Facebook page is more than seven months pregnant, was released from jail Wednesday afternoon after posting bail.
WATCH:

In a statement to Tulsa World, the murder suspect's attorney, Jasen Corns, called her husband's fatal fall a "tragedy for everyone involved."
"We will give her a full and fair defense," Corns said.
According to Tulsa's KOTV, court documents show Joshua Hilberling filed an emergency protective order in a Tulsa courtroom against his wife in May, claiming she had grabbed a floor lamp and "pushed/threw the lamp at me and busted me in the head." He said he was transported to the hospital, where he received 10 staples and 11 stitches. According to the documents, he also allegedly said his wife had been violent toward him on several other occasions.
The protective order was dismissed roughly two weeks later when the couple failed to show up for a court hearing, KOTV reported.
On Wednesday, Joshua Hilberling's parents, Patrick and Jeanne Hilberling, told FOX23 that their son and his wife had recently moved to Tulsa from Texas after Joshua was discharged from the U.S. Air Force. Joshua, the distraught couple said, wanted to become a registered nurse.
"He was a good son; I just can't say enough," Jeanne Hilberling said. "This sort of thing shouldn't happen to anybody."
According to his mother, Joshua was planning to leave his wife but never had the chance.
"[We] hope it's made people aware [that] spousal abuse [happens to] men too," Jeanne Hilberling told FOX23.