Record Music Using Les Paul's Guitar String Google Logo: Guitar Chords, Songs, And More (UPDATED)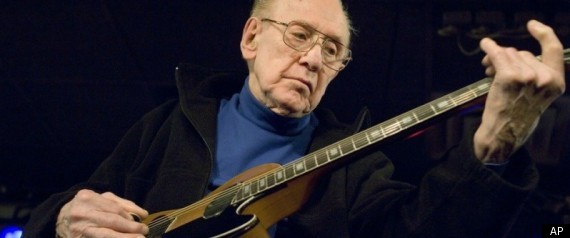 *Scroll down to hear HuffPost reader submissions.*
It's time to whistle while you search.
In honor of the 96th birthday of guitar legend Les Paul, who died in August 2009, Google has created an interactive homepage logo, complete with strings that users can pluck and play.
Born Lester William Polsfuss, musician and innovator Les Paul is perhaps best known for his invention of the solid-body electric guitar, a major contribution to the development of early road to rock n' roll, according to the Smithsonian Institute. He is also credited as "a father of multitrack recording, overdubbing and the electronic reverb effect," writes the Milwaukee Journal Sentinel.
Google has fittingly outfitted its Les Paul logo with a record button, letting Googlers in the U.S. create their own 30-second tracks and send their masterpieces to friends.
Simply mouse over the strings on the guitar logo to create notes. Once you've hit the record button, you can pluck individual strings by using the letters and numbers on your keyboard. When you finish recording, a sharable link appears beneath the logo.
This Google-created guitar is in the key of G. [A previous version of this post cited Techie Buzz, who claimed that the guitar is in the key of C Major. We regret the confusion.]
The Washington Post has created a diagram of keyboard letters that correspond to different chords you can play on the logo's strings. (View it here.) The Post also lists the keyboard numbers you can hit to play major chords:

C Major = 1, 3 5, 8
F Major = 4, 6, 8
G Major = 5, 7, 9
Techland even posted this Star Wars-inspired tune.
Did you compose a ditty on Google's guitar doodle? Send it to us by clicking "Send Photos/Video" below! We'll post the best songs. You can also view HuffPost's Les Paul music-maker tutorial (here).
UPDATE: Here are some of the best submissions so far. Think you can top these?